If you have multiple children, you could certainly benefit from a double stroller. I got my hands on the Graco Duoglider and loved it!
The first thing I noticed that really grabbed my attention was the stadium seating. Rather than the seats being directly in line with eachother, the rear seat sits higher than the front to give the back rider a view as well. Each seat has a snack tray with a cupholder and the large storage basket accommodated my diaper bag very well. 
I did find the folding mechanism to be a little aggravating. It took some effort to fold and unfold. However, since it's such a lightweight product, it eased the frustration a little. This stroller is compatible with multiple car seat types and the seats recline. The canopies were also large enough to shade my children quite well. 
Unfortunately, there's a low weight limit of 40-pounds per seat. Honestly, this isn't all that bad since there are two bodies rather than one. I loved how easy it was to move the stroller around and push through crowds. 
Aside from the difficulty with folding and unfolding, I still recommend this stroller. It performed well, was comfortable for my children, and decently affordable.
Price Comparison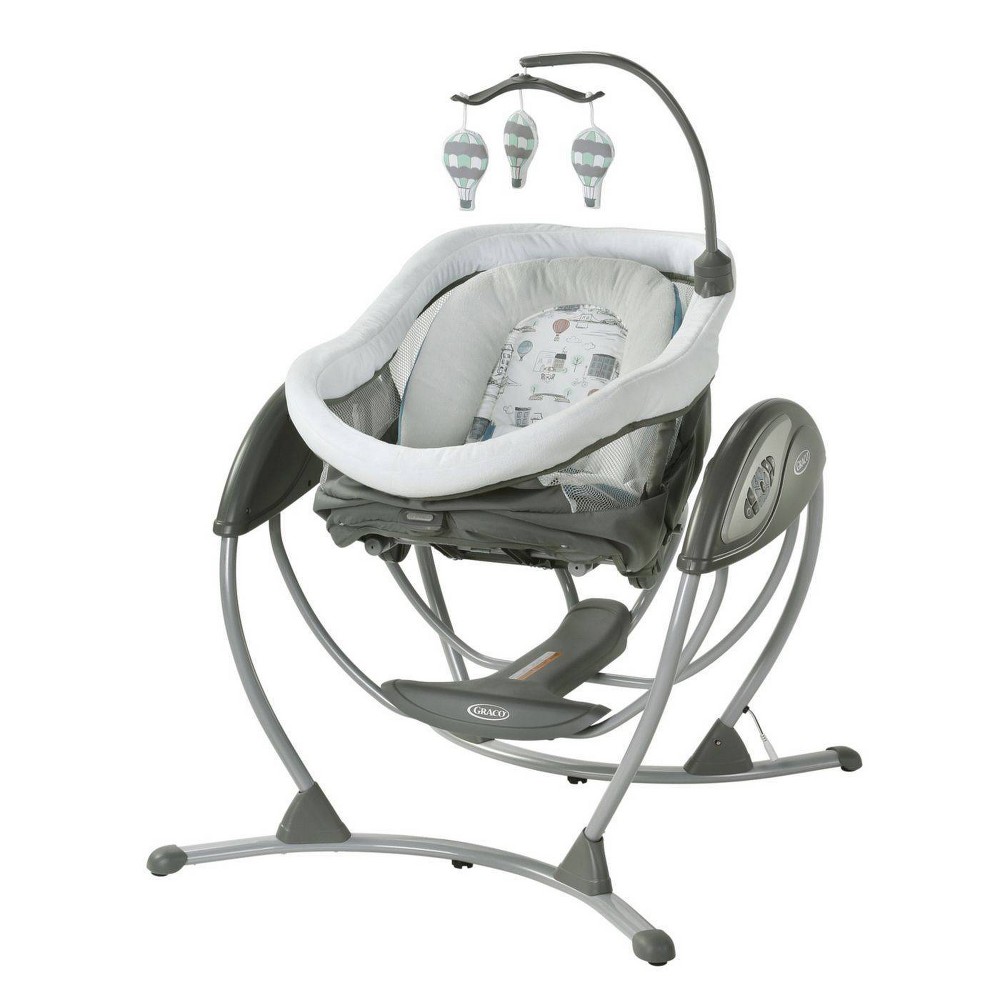 Target.com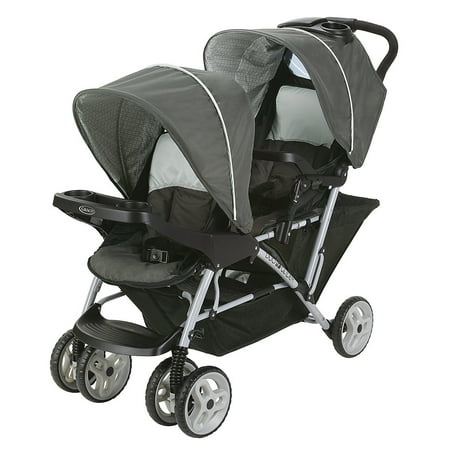 Walmart.com
Ease on the Go
Perhaps one of the best duo strollers for on the go, this product makes everything as easy as possible while still providing all of the perks of larger, heavier, and harder to maneuver strollers.
Weighing in at several pounds less than other comparable products and featuring an easy to use one hand folding system, storage, and usage of this product is an absolute breeze. The stroller has two independently reclining seats with individual canopies to suit two children with different preferences.
Additionally, each seat has its own removable snack tray and can fit a car seat via the locking mechanism or work as a big kid seat for children up to forty pounds (Source). Even better, the rear seat also reclines to turn into a bassinet, making it great for smaller children, too!
Stadium Seating
One thing that sets this stroller apart from other comparable models has to be the unique "stadium" seating that the product brings.
Instead of both seats being level with the front one having a better view of the world around them, the seats are staggered with the rear slightly elevated, giving the child in the back seat an equally great view of everything happening as they ride along!
No more bickering for who gets the better seat!
The stroller also has locking swivel front wheels to provide smooth riding and a suspension system to assure that your child is not impacted by the bumps and lumps of sidewalks and streets as you stroll about.
Indeed, this product takes everything into account, from sibling arguments to maximizing smoothness to enhance your little one's naptime riding!
Pros and Cons
What We Like 
Fits car seats via the locking system

Tons of comfortable features to enhance riding

Lots of storage

Stadium seating and snack trays

Uniquely reclining seats and canopies
What Don't Like 
Some people dislike the 40 lb weight limit

Some report wear on the plastic wheels 

Reports of folding mechanism difficulties
Unique Features
Independently movable seats

Smooth ride suspension and locking wheels

Tons of storage

Removable snack trays

Windows to view both children in canopies

Bassinet conversion
Product Specifications
Stroller Weight: 29.5 lbs

Stroller Dimensions: 36X20.5X41 inches

Folded Dimensions: 29.5X20.5 Inches

Weight Limit: 40 lbs per seat
Customer Reviews
Customers generally have good reviews for this product. It seems that many like the price point to perk ratio and find it to be a decent stroller.
The biggest selling points are the customizable seats and storage, though many do also report purchasing additional stroller storage tools, as well.
There are some very concerning downsides to this product, as well.
Unfortunately, many people reported having issues with the folding and unfolding mechanisms of this product, with one mother claiming to have to "body slam" it each time she planned to use it. 
Some people also reported the wheels showing severe wear and tear rather quickly, while others report none after years of use. Due to this, the reviews, while mostly positive, do tend to be a bit hit or miss. 
Pros
Low price

Tons of compartments for organization

Lightweight

Suits active and leisure trips
Cons 
Wear and tear soon after purchase

Issues with folding and unfolding

Issues with comfort and stability while in use in rare cases
Graco Duoglider Vs. Graco Ready2Grow
When forming a comparison of the Graco Duoglider vs. Ready2Grow, you will notice quite a few similarities between the two. They are both great duo-strollers with tons of valuable features, but there are a handful of differences that could sway you to choose one instead of the other.
Similarities
Affordable price range

General good reviews

Suits older and younger children

Includes storage and snack trays
Differences
Stadium seating in Duoglider

Ready2Grow is more extensive, bulkier, and heavier

Ready2Grow has reversed upper seat
Warranty Specifications
Graco offers a limited warranty on all of their products. You can find more about the time frame on your specific model by reaching out to customer service for more information.
Generally, the brand only covers issues caused by quality control issues and not misuse or other user-related issues. For more information, you can click here.
Recalls
There have been no known recalls on this stroller. Other comparable products have been impacted by a failed tray hinge. If you suspect your product may be impacted as well despite being of a different model, you can reach out to customer service for repair information.
Replacement Parts and Accessories
There are no licensed accessories to accompany this stroller. Fortunately, though, replacement parts are rather easy to find online if you have any issues with the stroller. Some popular accessories selected for this product include:
It is a fantastic rain cover that fits the longer frame of the Duoglider with no problems and keeps your little ones protected in the event of a sudden downpour. Plus, it is clear so they can still see everything happening around them! The product also works as an effective windshield, too. 
When you are maneuvering two children, chances are the last thing you want to do is lug around a diaper bag. While there is a ton of storage with the Duoglider, a bag hook can make a massive difference. The Doupa Stroller Hook is easily attached and makes going out a bit easier by freeing up your hands.
When out with two littles, keeping them happy and occupied can make things like waiting rooms and grocery shopping a little easier. The Baby Buddy Toy Securing Straps keep the kiddo's toys contained and attached to the stroller, preventing lost items and keeping your little one nice and entertained. 
Frequently Asked Questions
To open this stroller, you simply place the stroller on a flat surface with the handles facing upwards and wheels pointing downwards.
From there, locate the latch near the storage area of the stroller between the handlebars. Press the button and remove the safety strap. From there, the stroller should unfold as you pull. Continue to pull until you hear the stroller mechanisms click into place.
How do you attach a car seat to Graco Duoglider Stroller?
When using click connect car seats with the stroller, the process of putting the car seat into the stroller is quite simple. Just first remove the snack tray from the armbar of the stroller to allow the seat to snugly fit into the device.
From there, you simply click the car seat into place with the seat facing the handlebars. Push down lightly until you hear a click, and the car seat should be snug and secure.
How do you use a Graco double stroller?
To use a Graco double stroller, you simply adjust each seat independently to suit the age and height of each child.
For infants, click in the compatible car seat; older children can simply be placed in the seat normally without clicking in a separate car seat attachment.
From there, you can further customize each child's seat by changing the incline, lowering the canopy, and adding snack trays and cup holders, among other options.
If you want to know how to collapse a Graco stroller, read our detailed guide.
Is the Graco Snugride 30 a Click Connect compatible device?
Yes, like most other more recent Graco car seats, the Snugride 30 is a click connect device. 
Quality Double Stroller
In general, the Graco Duoglider Double Stroller is a great low-cost model that offers some amazing perks and suits children with age gaps and those who are twins.
The stroller strives to provide comfort and smooth usage, though there are some issues that make it a bit harder to work with than some higher-end models.
All in all, this product is solid for the price and worth consideration. You may be interested in the mockingbird double stroller as well.