I had never heard of Thule before I was asked to test the Thule Urban Glide 2 Jogging stroller. Price tag aside, this was a decent jogging stroller. 
The first thing I have to mention is the weight limit. Most strollers only allow a maximum of 50-pounds to sit in it, but this one has a weight limit of 75-pounds. One of the highest I've seen in a jogger. It kept my child cozy and comfy the whole time we were jogging. 
In addition to the weight limit, this jogger has an infinite recline seat so my child could recline as far back as they wanted to. It was great for napping. There's also a pretty large storage basket that zippers. It kept the diaper bag secure while I was running. When I needed to stop, the hand braking system came in handy, especially on hilly terrain. 
The only issue I had with the stroller, other than the cost, was that there aren't a lot of handlebar height options between high and low settings. Otherwise it performed quite well. 
If you can get past the price tag, I do recommend this jogging stroller. It has a large canopy to protect your little one and it's comfortable for them.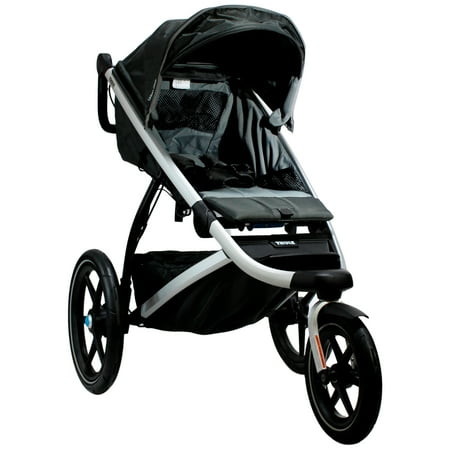 Walmart.com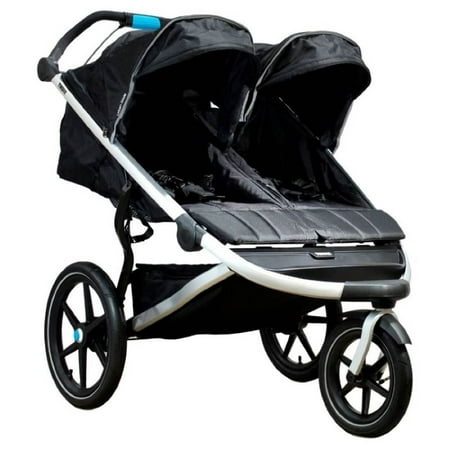 Walmart.com
in stock
as of September 25, 2023 12:24 pm
Amazon.com
Free shipping
Pros
Wheel design, low weight, and hand braking system are perfect for runners or joggers

Can be used with an infant bassinet or car seat

Child seats accommodate children up to 75lbs and have plenty of comfort features
Cons
Some parents found the child seat to be narrow

Child seat does not recline completely flat

Not a great deal of handlebar height options in between the highest and lowest settings

Costly 
Thule Urban Glide 2 Single Stroller
A smooth ride is one of this stroller's best features. The three-wheel design allows for excellent maneuverability. The front wheel can swivel or lock, depending on your needs and preferences.
This is considered an all-terrain stroller thanks to its large 16" inch rear wheels and incorporated suspension. All of the wheels are composed of a durable and gripping rubber that will last through numerous stroller runs. 
Two other components that stroller joggers will appreciate are the lightweight design and braking system. You won't have a problem pushing the Urban Glide, as it weighs just over 25 pounds. Making it is a breeze to propel whether you are walking or running. The unique twist hand brake, found on the handlebar, is perfect for those on the go.
It allows you to apply incremental pressure to the brakes while going over hilly terrain and provides extra security while running. The Thule Urban Glide 2 also has a footbrake.
The footbrake is easy to lock into place with tennis shoes but may not be very flip-flop friendly. The final security measure for runners is the handlebar wrist strap. This strap helps to ensure that your stroller will never get away from you, especially while running downhill. 
Thule Urban Glide 2 Jogging Stroller
in stock

Free shipping
Buy Now
Amazon.com
as of September 25, 2023 12:24 pm
Ergonomic Handlebar & Reflective Fabrics
Two additional features outdoor enthusiasts will love are the ergonomic handlebar and the included reflective fabrics. The handlebar is designed for parent comfort and can be adjusted to the perfect height. The Thule Urban Glide 2 has reflective rims on all of its wheels and on the canopy edge so you can feel safe and seen while urban exploring with your little ones.
While it may seem like this stroller heavily caters towards parents, you will be pleased to know that it is also exceptionally comfortable for children. It has a fully extendable multi-position canopy that even includes side ventilation windows.
The canopy will keep your little one cool and protected from the sun, wind, and rain. The peek-a-boo window will let you look in on your child and then can be securely refastened thanks to its magnetic closure. 
The Thule Urban Glide 2 will accommodate infants with the use of the infant car seat adapter or the infant bassinet. Toddlers and older children will be cozy and safe in the padded child seats featuring a five-point harness, integrated ventilation, and infinite recline options. The child seats accommodate children weighing up to 75 pounds.  
Thule Bassinet
The Thule website notes that the Thule bassinet attachment is not available in North America. However, an online search shows that the compatible Thule bassinet is available for purchase from other retailers.
Before buying a bassinet, it would be wise to thoroughly research compatibility and check with the manufacturer if necessary. You can take everything you need along for your adventure due to the stroller's ample storage. It includes a zippable large cargo basket, a rear mesh pocket, and two mesh storage bags for snacks, toys, or other necessities. 
Whether you are getting ready to head to the park or have just finished a run, the stroller is easy to breakdown and transport. The one-handed fold system allows the Thule Urban Glide 2 to become quite compact and nearly flat, especially once the rear wheels are removed. 
Cleaning and Care
The stroller, unfortunately, does not have any machine washable components. Therefore, you can only spot clean your Thule Urban Glide 2. When cleaning, be sure to use only mild soap and water. Abrasive cleaners and solvents are not recommended. 
Folding and Unfolding the Stroller
To prepare your stroller for folding, collapse the canopy and fold the handlebar down to the lowest position. Then, between the seat and the leg rest, grab the folding handle. By lifting with one hand, you can fold the stroller. The automatic locking mechanism will help to keep it folded in place during transport or storage. 
To unfold your collapsed Thule, release the automatic locking mechanism found on the side and lift up on the handlebar. When you hear a click, the stroller should be secured in the open position. You can press down on the handlebar just to double-check. 
To Recap
An excellent stroller for families on the go. Perfect for running, jogging, or strolling through narrow urban settings

Can be used with infants (with adapters) as well as young children weighing 75 pounds or less

Numerous safety and comfort features for adults and children alike

Folds down quite compact with one-hand fold system
Recommended Use
Can be used with infants if using an adapter or bassinet.Child seats: can accommodate children weighing 75lbs or less
Unique Features
Hand braking system twists for control on hilly terrain

Infinite recline child seats

Reflective lining on canopy and tire rims

Large storage basket with zippered closure

Peek-a-boo window with magnetic closure
Specifications
Stroller weight

: 25.3lbs

Stroller height

: 40" 

Stroller length:

41.1"

Listed Stroller width

: 27.2"

Seat width:

12.4"
Thule Urban Glide 2 Single vs. the Bob Revolution Flex
The Bob Revolution stroller is another highly acclaimed jogging stroller.
The Thule and Bob strollers share many similarities, including the all-terrain tires with a front swivel locking wheel, ventilated reclining padded child seats, accommodation of car seat adapters, storage, and an adjustable handlebar.
In addition, they share the 75-pound weight limit. However, Bob Flex does not offer the handlebar twist braking system. Although, its handlebar does adjust to nine different positions. A final-minute difference is the lack of a zipper on the lower storage basket. Overall, these strollers are very comparable.     
Similarities 
Storage compartments

Wrist strap

Easy one-handed fold

Reclining child seats with an identical weight limit

Large extendable canopy

Three-wheel design featuring all-terrain tires

Both accommodate infant car seat adapters
Differences
Bob's handlebar adjusts to nine different positions.

Bob stroller does not have a zippered lower storage basket

Bob stroller does not have a twisting hand brake

Thule stroller does not have front-wheel tracking alignment
The Thule Urban Glide 2 Double
If you have two little ones, then consider the Thule Urban Glide 2 Double. This stroller has all of the same great features of the Urban Glide 2 single.
It is a side by side double featuring two child seats right next to each other. However, it can also accommodate car seat adapters or an infant bassinet. Even though it is a double, it weighs only slightly more than 34 pounds.
Thule Urban Glide 2 Double vs. the Bob Revolution Flex 2.0 Duallie 
Just as the Thule Urban Glide is available in a double stroller option, so is the Bob Revolution. Like the single versions, the doubles share a host of similar features. These are multiple storage options, all-terrain tires, large canopies, and reclining child seats. 
However, the Bob Revolution Flex Duallie allows for a 50lb weight limit per seat while the Thule's limit is 48.5lbs. Furthermore, the Bob Duallie stroller has an integrated and adjustable front wheel tracking system for increased maneuverability.
The Thule's zippered storage pouch and twist handlebar braking system are two features that the Bob lacks. Like their single stroller counterparts, both of these strollers only have minute differences from one another.  
Similarities 
Multiple storage compartments

Safety wrist strap

Easy one-handed fold option

Reclining child seats 

Large extendable canopies

Three-wheel design featuring all-terrain tires

Both accommodate infant car seat adapters
Differences
Bob's weight limit is 50lbs per seat compared to Thules 48.5lbs per seat

Bob stroller does not have a zippered lower storage basket

Bob stroller does not have a twisting hand brake

Thule stroller does not have front-wheel tracking alignment
Compatibility
The Thule Urban Glide 2 is only compatible with the Thule infant bassinet. Thule brand car seat adapters are also available. These adapters are compatible with most major car seat brands, including Maxi-Cosi, BeSafe, Cybex, and Nuna. However, it is not advised that you take infants under six months on stroller runs or jogs. 
in stock
as of September 25, 2023 12:24 pm
Customer Reviews
Parents love Thule products for their incorporation of many features that are conducive to an active lifestyle. Parents appreciate the zippered, heavy-duty cargo basket, magnetic peek-a-boo window, and all-terrain system. Also, the twisting handbrake system provides extra peace of mind on hilly runs.
A few parents found the seats to be too narrow for older children. Though, the high canopy height and long leg rest easily accommodate even tall children. Other concerns included the lack of handlebar height positions and the overall weight. Even though the Thule is quite light, it is not among the lightest jogging strollers.
Parent Likes
Twist hand braking system

Multiple storage options with zippered closure

Securely attaching magnetic canopy window

Extra maneuverable three-wheel design with suspension
Parent Dislikes
Narrow seat width

Not the lightest of models

Not many handlebar height options in between the lowest and highest position
Matching Accessories
Even though the Thule Urban Glide 2 has many storage options, you can increase storage space with the Thule Stroller Organizer. It contains a cup holder and a zippered pocket to hold all of your belongings securely.
It easily attaches to the stroller handlebar and can even accommodate the curved design of the Urban Glide 2 handlebar. 
As mentioned above, you can stroll with your infant when using the Thule Stroller Infant Car Seat Adapter. This car seat adapter securely and effortlessly allows your car seat to attach.
It can be used with select Peg Perego, Maxi Cosi, Nuna, Graco, Britax, and Chicco car seat models. Bear in mind; the adapter is designed only for walking and not for running or jogging.
Run in the rain or shine with the Thule Stroller Rain Cover. There is an option for either the single or the double. It is a breeze to install and attaches securely around the handlebar and leg rest.
As it is produced by Thule it is custom-fitted to the stroller, so you are sure to receive the best weather protection. 
Staying Active with a Baby Just Got Easier
The Thule Urban Glide 2 is an excellent stroller for active families. It is a bit costly, but for runners, the price is well worth it. The stroller features many options that keep both occupants and those pushing the stroller comfortable and safe.
Besides, it includes all of these things while still being rather lightweight. If you are looking for an excellent stroller tailored to your active lifestyle, the Thule Urban Glide 2 single or double is a perfect solution!