I love the Graco brand because they offer generally affordable prices for safe baby products. That's why I was so excited to be able to test the Graco FastAction Travel System. 
One feature that stood out to me was how well and quick the stroller folded up. I found this to be one of the smoothest and quickest folding actions I've ever seen. I did it with one hand holding my child and the other on the stroller. I suppose this is why they call it "FastAction". 
I enjoyed using the car seat as well. The travel system comes with the Graco SnugRide 35 Lite Infant Car Seat. It isn't much different from other Graco car seats. The only complaint I have is that it doesn't come with the infant insert. 
As far as the stroller goes, I found the storage compartment to be very roomy. I could easily fit my diaper bag in it. There's a child's tray with a cup holder, making it easy for my child to access a drink and some snacks on-the-go. When we were done, it folded to a compact size and easily fit in my trunk. 
I recommend this travel system for a number of reasons. I love how small it folds up and how easy it is to do so. The infant seat isn't anything to write home about, but the stroller certainly makes up for it.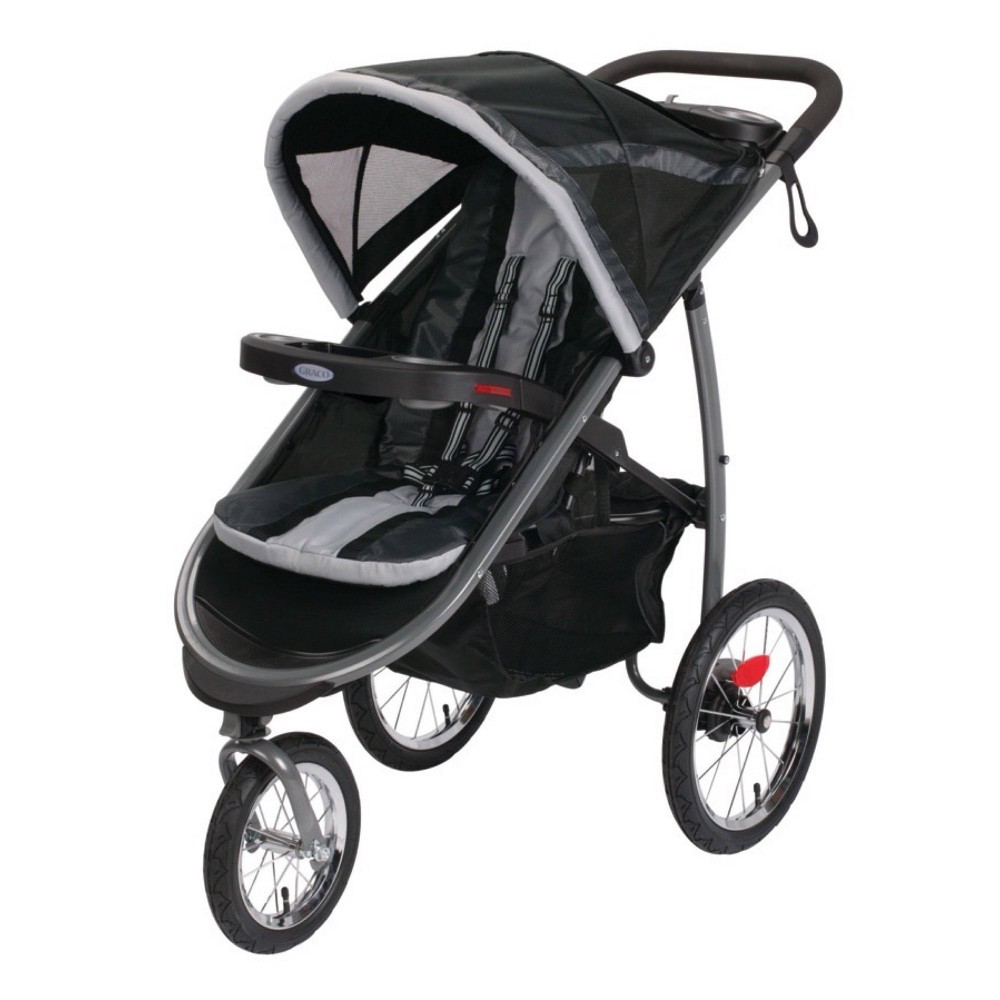 Target.com
$234.99
in stock
2 new from $231.99
as of September 29, 2023 5:43 pm
Amazon.com
Free shipping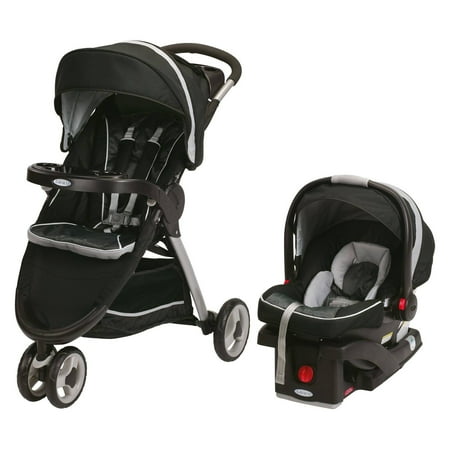 Walmart.com
Unique Features
When considering the endless list of travel systems online, why will this Graco system stand out? 
Car seat top-rated in safety

ClickConnect system

Convertible 3- or 5-point harness 
Pros and Cons
It's smart to consider all of the pros and cons of a system before laying out the money. Luckily, the Graco FastAction system is affordable. In a market saturated with $500 strollers, this system is a pleasant exception.
Safety and comfort for your little one do not have to break the bank. It will be convenient for you as well. The stroller and car seat is lightweight and easy to clean. It's not a perfect travel system, however. The SnugRide, while approved for newborn use, does not include an infant insert. Beyond that, you'll be carrying your diaper bag – the stroller's basket can't fit a large diaper bag. 
Pros
Affordable

Car seat cushion is machine-washable

Lightweight stroller
Cons 
Car seat lacks newborn head support

Bottom basket doesn't fit a large diaper bag
Graco FastAction SE Travel System | Includes Quick Folding Stroller and SnugRide 35 Lite Infant Car Seat, Redmond, Amazon Exclusive
2 new from $231.99
Free shipping
Buy Now
Amazon.com
as of September 29, 2023 5:43 pm
Safety Ratings
Graco takes pride in how safe their products are. The SnugRide infant car seat included in the Graco FastAction Fold Click Connect system is JPMA Certified. The Juvenile Products Manufacturers Association, or JPMA, grants their certification to products that exceed federal safety testing.
All products with a JPMA certification have been tested in an independent laboratory to ensure its quality. Graco itself has tested its products to make sure it meets or exceeds the United State's FMVSS 213. The seat's foam cushion is energy-absorbing to lessen the impact in the event of an accident. 
Expiration
For Graco car seats, there's a simple equation for determining the seat's expiration date. Printed on the seat and in the manual, there's a useful date notation.  Also on the car seat, you'll find a label on the back or bottom with the date of manufacture printed on it. From there, you can complete the equation. Date of Manufacture + Useful Life = Car Seat Expiration Date
For example, an expiration date of October 18, 2017 and a useful life of 10 years would look like this: 8/20/2017 + 10 years = an expiration date of 8/20/2026. 
Recalls
The name Graco has been around for a long name. 77 years, in fact. The company was first founded in 1942. Not surprisingly, in those decades of business, the company has experienced its share of product recalls. Most notably, the SnugRide car seat featured in the FastAction travel system has been recalled. In 2003, the infant car seats were recalled when it was discovered that some bases might have missing hardware.
This hardware was used to attach the car seat to its base. Without the piece in question, the seat could detach from the base in the event of an accident.  The recall was voluntary. No injuries were reported. Customers were sent a notice of the recall. If customers found their base to be missing the piece, Graco replaced their base free of charge.
Warranty
All Graco products come with a one-year limited warranty. They guarantee their product to be free of defects in material and workmanship. If a defect is found within one year of purchase, Graco will repair or replace the part at no charge. The original receipt is required to prove the date of purchase.
Dimensions
The Snugride Click Connect 30 infant car seat with its base weighs 10.76 pounds. Without the base, it only weighs 7 pounds. The car seat measures 14 inches in height, 17.5 inches in width, and 26.75 inches in depth. Meanwhile, the FastAction Fold stroller is lightweight, weighing only 21.3 pounds. The stroller is 41 inches tall. It's 22 inches wide. The entire stroller is 27.5 inches deep, while the seat of the stroller is 10 inches deep.
Colors
This travel system comes in four different styles. The styles are named Janey, Bennett, Nyssa, and Finley. All styles have a base color of a dark gray with splashes of color and patterns. 
The Janey has swatches of lavender, tan, and a white floral pattern. 

The Bennett is mostly dark gray, with shades of pale green and a striped pattern. 

Nyssa is purple and mint green with a different floral pattern. 

Finley has a circle pattern with shades of gray and red. 
Customer Reviews
Reviews of the FastAction travel system are overwhelmingly positive, which is always a great sign. Customers love how easy it is to click the car seat into the base or stroller.  Plus, this lightweight stroller is easy to navigate, even though the narrowest of store aisles. 
Customers do have some complaints. Parents have found the car base hard to install for the first time. Once it's in, it's secure, but moving it to a second car can be a challenge. 
Also, a lot of parents disliked how the stroller's canopy was challenging to keep open and extended. Babies ended up with a face full of sunshine, thanks to the faulty canopy. 
What Customers Like
Car seat is roomy

A car seat clicks easily into base and stroller

Stroller is easy to navigate
What Customers Don't Like
Car seat base is hard to install

Car seat canopy is difficult to keep extended
Similar Travel Systems
Safety 1st Smooth Ride Travel System
The Graco FastAction is remarkably similar to the Safety 1st Smooth Ride travel system. While the Safety 1st travel system has the word "safety" right in the name, both travel systems exceed the national safety ratings for car seats. Both car seats offer a reassuring and secure locking "click" when connecting to the base or stroller. 
Between the two systems, there are some differences that can make or break the decision to pick one over the other. For example, the Graco SnugRide car seat does not include a dedicated newborn insert. Some parents find it does not offer enough head and neck support for the littlest of babies.
The Safety 1st car seat comes standard with a newborn insert. Also, if you plan on strolling outdoors often, the Graco canopy might not be enough for sunny days. The Safety 1st stroller features an extra-large canopy for maximum shade.
Which travel system should you pick? It comes down to preference. If you need to place a premature baby or small newborn in a car seat, Safety 1st Travel System may be the better choice.
Similarities
Both have high safety ratings

Both have secure click lock systems

Both have easy-to-fold strollers
Differences
Graco has front double-wheels

Safety 1

st

has a newborn insert

Safety 1

st

has an extra-large canopy

Graco comes in fun patterns
$234.99
in stock
2 new from $231.99
as of September 29, 2023 5:43 pm
Evenflo Sibby Travel System
If you need an affordable travel system, both the Graco and the Evenflo Sibby system are reasonably priced. For on-the-go parents, both the Graco and Evenflo strollers promise an easy one-hand fold. 
Most notably, the Evenflo includes an easy-to-attach ride-along board. This allows an older child to ride on the back of the stroller. The younger sibling in the stroller seat, unfortunately, will not have a child tray, even though there is a parent tray.
The lack of cup holders could mean an unhappy toddler. Still, if you plan on having multiple children, the Evenflo system only comes in two shades of a neutral gray, meaning it can be used for any gender.
Which travel system is superior? With these two systems, it comes down to family size. For parents of one child, stick with Graco. However, if you have an infant and an older sibling, the Evenflo Sibby is exactly what you need. Likewise, since the Evenflo only comes in two gender-neutral colors, you can always pass it down to another baby.
Similarities
Both are affordable

Both have easy-to-fold strollers
Differences
Evenflo has a ride-along board

Evenflo has a shorter warranty

Evenflo does not have a child tray

Evenflo only comes in two neutral colors
Deciding on Travel System
As parents, we want to be our children's superheroes. Our first mission is always to keep them safe from danger. A reliable travel system is just one of the many steps towards achieving that goal. 
Keep in mind all the pros and cons of the Graco FastAction Click Connect travel system when making a decision.  Don't worry – no matter what, you'll make the right decision for your family.