Jogging strollers are the perfect way to jog with your baby in tow. I was able to test the Chicco Tre Jogging Stroller, but wasn't impressed. 
To begin, there was really nothing that stood out to me about this jogging stroller. Yes, I do admit that it's convenient in that the fabric is easy to wipe clean and the stroller can be folded with just one hand, but that's it. It also has a very low maximum weight limit when compared to other jogging strollers. 
The only car seat this stroller is compatible with are the Chicco KeyFit Car Seats and that's it. No other car seat will work with it. When using the stroller I noticed that the wheels and brakes were squeaky. I did like how the handles could be adjusted and locked and how well the hand brakes worked. It gave me confidence that my child was safe. 
Overall, it was a decent product to use, but it just didn't compare to other joggers in the same price range. There was nothing special about it, so I don't think it was worth the price. 
I don't recommend this jogging stroller. It's pricey and has no features to write home about. It was convenient and easy to use, I'll give it that.
$399.99
in stock
3 new from $369.99
4 used from $302.26
as of October 1, 2023 12:40 pm
Amazon.com
Free shipping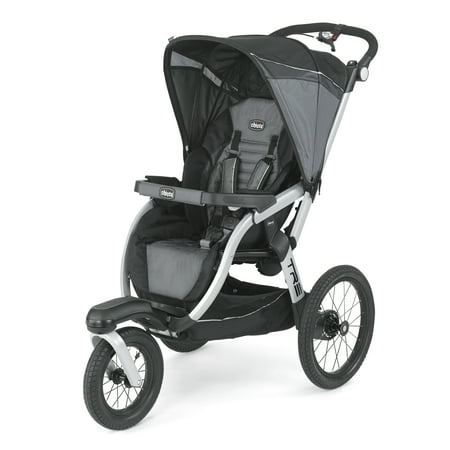 Walmart.com
Pros

Made for comfort 

Suits the Chicco KeyFit Car Seat

Maximized Convenience 

Designed for one-handed usage
Cons 
Does not suit many car seats outside of Chicco brand

Only available in one color, Titan, a grey

Some reports of squeaking wheels and brakes

Lower maximum weight limit
Maximum Convenience
Chicco worked to imbue the most comfort and customization into this product to make it an absolutely stellar option regardless of your intentions with its usage. The entire stroller is made of fabric that is easy to wipe clean, making clean up simple and hassle-free.
Additionally, the storage and folding of the product is just a quick one-hand fold that can be done in three different ways to best suit your storage preferences: self-standing for closets or garage, folded flat for tossing in the trunk of a car or when in use with public transportation, or compact storage for the tightest locations. 
Compatible with the Chicco KeyFit Car Seats, the seat insert of the stroller is easily removed to allow the infant car seat to easily snap into the stroller, allowing sleeping kiddos to be moved without being awoken or smaller babies to remain in their seats for increased support.
This function is suitable for up to around six months of age, at which point most children can use the stroller normally.
Comfort Levels
Chicco took your child's comfort into mind, creating a specialized awning to help block the sun. A secondary shade option can flip out to block further light and heat, which is particularly helpful if you are concerned about sunburn potentials or if your child wishes to take a nap while you are out and about.
The stroller is also water repellant, meaning that sudden rainstorms will not reach your little one as drastically as what would occur with a traditional umbrella stroller or cloth cover. Perhaps one of the best aspects of this stroller has to be the Flex Core suspension system, a two option set up that allows you to customize the ride type to suit the terrain you are on.
The "soft ride" option works well for leisurely walks or stable terrain, and the "firm ride" option suits jogging or rougher terrains, as it works to minimize the jostling your child would otherwise experience. 
Product Specifications
Six months and underuse car seat with stroller

Over six months ride normally

Weight: 28.5 pounds

Dimensions: 47.5 x 25.5 x 42 inches

Minimum Weight: 5 pounds

Maximum Weight: 55 pounds

Seats 1 child
Unique Features
Easy to use with one hand

Water-resistant

Easy to clean

Two riding options 

Pneumatic, spoked tires 

Adjustable and lockable handles 

Hand brakes and wheel locks
Customer Reviews
When looking through the Amazon reviews, many people praise this stroller for its easy to use features and its plethora of customization options. Parents can easily adjust the height of the stroller via a handle adjuster and flip between two different riding styles to suit leisure and running.
It is also reported that the assembly of this stroller is very easy and it is one of the easiest to store models most people have used. The Chicco Tre Jogging Stroller Travel System seems to be a real winner with most users.
That being said, some people have reported issues with the brakes and wheels squeaking or seeming unstable, especially the handbrakes. On the Chicco website, you can contact the customer service line to remedy this issue, though, and many people report success with this avenue. Despite this, there are very few low reviews on this product, and most people generally enjoy using it. 
What We Like
Easy assembly

Tons of features

Incredibly comfortable
What We Don't Like 
Squeaky parts

Not suitable for all car seats
Chicco Tre Jogging Stroller VS Chicco Activ3 Jogging Stroller
Commonly compared due to their similar features and designs, the Chicco Tre and Chicco Activ3 Jogging Strollers are fantastic products with slight differences that set them apart. 
Generally, they both function almost identically with the main differences being that the Activ3 uses the same size wheels for all parts of the stroller while the Tre has 16-inch wheels on the back and a 12-inch wheel on the front, creating a smoother ride. 
Due to this, the Chicco Tre is reported to provide a better jogging experience but does come at a higher price point. You cannot go wrong with either if you like the streamlined and simple design of the products. 
Warranty Specifications
The warranty information is actually quite difficult to find for this product. It was not readily available on the product page or Amazon listing. In fact, the Amazon listing for the product actually directs warranty inquiries to contact their customer service line. 
After calling and going through the automated system, the warranty was explained as follows:

All Chicco products have a one year warranty that covers manufacturer defects and applies when purchased from a licensed Chicco retailer or directly from Chicco.
It does not apply to third party sales or other purchases aside from licensed retailers. For more information or if you have questions, please call the Chicco customer service line at (844) 424-4226.
$399.99
in stock
3 new from $369.99
4 used from $302.26
as of October 1, 2023 12:40 pm
Accessories
As mentioned before, there are quite a few additional customization options that can be picked up to make this product even more well rounded. That being said, most products are not licensed by Chicco.
Many people are shocked by the lack of an attachable snack tray for the product but Chicco has recounted these frustrations by explaining that the stroller was designed for active lifestyles. Some of the more popular attachments include:
The Jeep Jogging Stroller Weather Shield is a great choice that many users report works well with the Chicco Tre Jogging Stroller. The product slips over the handles and acts as a protective barrier to help keep your little one dry during more torrential rain where the visor does not cut it.
The Baebly Stroller Organizer is commonly used with the Chicco Tre Jogging Stroller since it slides over the handles and provides some extra storage.
The stroller itself comes with a water bottle holder and a few other pockets, but this product suits those who must bring more along or are going on longer runs quite well. Plus, the product includes two clips for purses or backpacks, too!
There is also one replacement part available directly from Chicco. Some people report issues with the rear suspension spring going out, so the brand released the part on their website. The spring also works with the Chicco Activ3, as well. It should be noted that the ten-dollar price is for a single spring. To replace the part, you will likely need to purchase two. 
Frequently Asked Questions
What jogging strollers are compatible with the Chicco Keyfit?
All Chicco jogging strollers are compatible with the Chicco Keyfit car seat systems. There are bumper bars and adapters available either with the product or through the website. Feel free to contact customer service for help finding the right part for your product.
How do you open a Chicco jogging stroller?
Opening the stroller is quite simple: 
Pull up the handle until it clicks into the first of four positions. 

Locate and grasp the fold/release handle

Push the button on the handle with your thumb and twist the handle forward

Rock the handle back and up. This should open the stroller.
A full diagram of unfolding your stroller is available in your user manual or online in the digital user manual. This applies to the Chicco Tre Jogging Stroller, as well as all other jogging strollers from the brand. 
Final Words
Overall, the Chicco Tre Jogging Stroller is a reliable product that suits many different lifestyles and offers some pretty fantastic features to make your runs comfortable and safe.
Some people dislike the lack of a snack tray for smaller children who cannot hold snack packs or bowls, but generally, the product is well received. You indeed cannot go wrong with this product if you want something that will last and perform well for years to come. You may be interested in the Joovy Zoom jogging stroller review as well.