If you're spending a fortune on a stroller, you'll want it to perform well, right? I got my hands on the Britax B-Ready Double Stroller to test and put it to the test. 
When I unwrapped the stroller, I thought that it looked like a very high-end product from a reputable company. Unfortunately, it was heavy, bulky and not intended for air travel. As somebody who travels a lot, this made it much more unappealing to me. 
In terms of ease of use, I will give it four stars for that. There are twelve seating configurations and reversible seats with a large basket and front access panel. Unfortunately, there are certain accessories that you have to purchase such as the child activity tray if you want it.  
As I was using it, I found it hard to maneuver. The wheels wanted to go in a different direction than I wanted to go in. I also couldn't quite fit it in the trunk of my car. It was too bulky even when folded up. 
For the price, I can't honestly recommend this stroller. I didn't enjoy using it and it was a pain in the neck to maneuver. It just wasn't my cup of tea.
After hours of research, we can tell you the big pros and cons of the Britax B Ready Stroller.
Price Shopping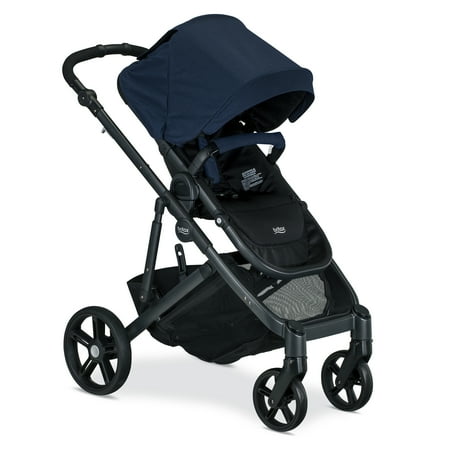 Walmart.com
out of stock
as of September 21, 2023 3:15 pm
out of stock
as of September 21, 2023 3:15 pm
Dimensions
The Britax B Ready measures 44″ by 24" by 43" when fully assembled
The product weighs 30 pounds
What Customers Like
Feels and looks high end

Safe and trustworthy brand

Versatile seating positions
What Customers Don't Like
Heavy and bulky

Can be hard to maneuver

Inconvenient for air travel
Top Features
In a market full of double strollers, why pick the Britax B Ready? What makes it different from the others?
Twelve seating configurations

Reversible seats

Extra-large basket with a front access panel
Online customer reviews tend to be skewed to either "love it" or "hate it."  Still, when it comes down to brass tacks, why should anyone buy this stroller over any other?
Britax is a known and trusted brand
Beyond that, this particular model has features that make double strolling easier. The seats are reversible, so your little one can face forward or backward.  Plus, it's an inline style so you can navigate two car seats through narrow spaces.
Comfort is important. Four recline positions keep young ones comfortable. The extra-large canopy provides maximum shade. The peekaboo window has a magnetic closure to avoid noisy Velcro.
The Handlebar
The handlebar is adjustable – tall parents, rejoice!  Storage is also a breeze. The bottom basket found on this stroller is huge. If you have ever struggled to shove a diaper bag in the stroller basket, you will appreciate this.
Plus, it has a zippered front panel so your belongings are easy to access. Unfortunately, the stroller is bulky, but you'd be hard-pressed to find a double stroller that isn't. Accessory-wise, the B Ready has minor inconveniences. It comes standard with only a single cup holder, for example.
Likewise, it doesn't come with a child activity tray. Thankfully, all of this can be remedied by purchasing additional accessories. 
What We Like 
Safe and trusted brand

12 seating positions

Extra-large canopy

Adjustable handlebar 

Large zippered storage pocket
The Bad
Heavy and bulky

Have to buy additional accessories
Expiration
Most parents are aware that car seats have expiration dates.  For safety reasons, car seats should not be used after a certain date. What about strollers though?  Do strollers expire too? Good news – they don't!
Car seats have to survive potential car accidents, but strollers do not. Even though strollers are not held to expiration standards, you still should not keep them indefinitely. Materials break down over time. As strollers age, they may not be as comfortable or as easy to maneuver. If wear and tear has taken its toll on your stroller, look into replacing it.
Recalls
Recalls can be alarming. When it comes to any baby products, parents only want the safest options. Dangerous manufacturer defects can cause customers not to trust a brand anymore. Fortunately, the Britax double stroller has only been subject to one minor recall.
In 2016, the strollers were recalled because of a defective armbar.
Stroller armbars tend to be a target of little one's chewing. The Britax B Ready armbar was covered in foam padding that could come off in pieces and become a choking hazard. This knowledge came from 117 reports of kids biting the armbar, while 5 children reportedly choked or gagged on the foam pieces. Consumers were provided free armbar covers from Britax. 
Warranty
The Britax double stroller is covered under the company's umbrella warranty. Per the Britax website, "each stroller product is warranted against defective materials or workmanship for two years from the date of original purchase." The policy points out that certain damages are not covered under warranty, such as misuse, negligence, or the use of unapproved accessories. 
What Car Seats Are Compatible with a Britax B Ready double stroller? 
All Britax brand car seats are compatible with the B Ready double stroller. If you are using one Britax car seat, you do not need an adapter. The seat will attach without one. If you'd like to use a non-Britax infant car seat or use two infant car seats at once, you will need an adapter.
The B Ready Double Infant Car Seat Adapter is an accessory that is sold separately from the stroller itself. With the Britax double stroller adapters, the stroller is compatible with all the major car seat brands. You can attach any of the following seats: Graco Snugride 32/35, Chicco, Peg Perego, and, of course, Britax car seats or bassinets.
Honest Customer Reviews
How do parents feel about the Britax double stroller?  Before a big purchase, it's good to know how it's worked for other customers. Generally, Britax owners have great things to say about the stroller. A lot of customers are impressed by how high-end it looks. Some customers felt it was a "lifesaver" with two or more kids. Britax fans love the multiple seating positions.
With 14 seating accommodations, you're sure to find the right fit for you and your children. A common complaint did pop up. Many customers felt the stroller was hard to maneuver. A few parents had issues with wheels locking up. The company was able to provide a wheel lubrication kit for this issue.
A lubrication kit can't make this stroller better for air travel, though. Many customers felt the B Ready wasn't worth the hassle when it came to air travel. The bulk of this double stroller makes it impossible to carry onboard.
Similar/Alternative Double Strollers 
They are plenty of double strollers on the market. Some even seem incredibly similar to the Britax B Ready. Still, looks can be deceiving. Britax is still your best option.
At first glance, the Baby Jogger City Select looks almost identical to the Britax double stroller. In theory, it is the same. This stroller can be used as a single or a double. It promises 16 seating configurations.
In practice, though, the strollers are very different. Customer reviews reveal that this stroller begins to have problems when you add a second child. Wheels become too wobbly. Children have inadequate legroom.One customer laments that the stroller won't fold with seats connected!
Similarities
Similar seating configurations 

Adjustable handlebars
Differences
Baby Jogger weighs more than Britax B Ready

Baby Jogger doesn't come in different colors

Baby Jogger's bottom basket doesn't have front access
For another option, there is the Joovy Caboose Too Sit and Stand Stroller.
It is certainly a decent travel system. It's super affordable as well. Remember, though; you get what you pay for.
The Joovy double stroller has limited seating accommodations. Infants and toddlers have to be forward-facing. The seats are not reversible.
For older children, you can convert the back seat to a rear-facing bench seat. If it's important to you that your infant be able to face you, then stick with the Britax B Ready.
Similarities
Differences
Joovy seats are not reversible

Joovy offers a bench seat option
Frequently Asked Questions
Which strollers are compatible with Britax B Safe car seat?
All Britax strollers are compatible with the B Safe car seat. Beyond that, the following are also compatible:
Joovy Caboose, Big Caboose and Caboose Too

Baby Jogger City Select, City Select Lux and City Premier, City Mini and City, Mini GT, City Tour Lux

BOB Revolution

Bugaboo Fox and Buffalo, Cameleon3, Bee3 and Bee5

Austlen Entourage Front, Entourage Rear

Contours Options Elite, Options and Curve

Quinny Modd
out of stock
as of September 21, 2023 3:15 pm
out of stock
as of September 21, 2023 3:15 pm
How do you unfold a Britax double stroller?
The Britax B Ready stroller may look complicated, but it's simple. To begin, make sure your toddler seat is facing forward. You'll find a release on the chassis lock. Open the release and pull open the frame. Lift the handle to lock the frame in an upright position. That's it!

How wide is a Britax double stroller?
Double strollers have quite a reputation for being wide and cumbersome. The Britax B Ready double stroller is an inline model. Instead of the seats being side-by-side, it's one in front of the other. The Britax B Ready measures 44″ long x 24″ wide when fully assembled.
Quality Double Stroller-Great Family Investment
A stroller is a serious investment. It's one of the first things parents consider after that positive pregnancy test.
If you're planning on growing your family in the future, a double stroller may just be worth the extra cash.
If you'd like to feel confident in your stroller purchase, trust in Britax.Do you own a Britax double stroller? What do you think of it? Do you love it? Let us know in the comments!