Transporting your special needs child may present additional challenges when you are searching for a car seat. Muscle tone, sensory issues, and lack of communication can make riding in the car especially difficult for a special needs child. Furthermore, your child may need to use a car seat longer than other children. 
One consideration when searching for a special needs car seat is additional physical support. Some seats are engineered to fit more snugly around a child to create a sense of security and well-being. Other seats are designed with additional harnesses and trunk and hip supports for children with less physical control or core strength. 
Sensory issues can create special challenges for children while riding in the car. Harness covers and seat belt latch covers can improve your child's safety and comfort. 
We have carefully researched car seats and other accessories to determine the best options for your special needs child. 
The Roosevelt Standard Special Needs Seat was designed specifically with special needs kids in mind. It has extra padding around the head and hips for maximum protection and to make your child feel safe, secure, and comfortable.
This carefully designed car seat holds children from 35 pounds to 115 pounds. It has adjustable height straps and multiple accessories to choose from to meet your child's needs.
We have organized our research findings below to help you make the best choice for your special needs child. Details about available car seats and helpful accessories are highlighted below.
Top Car Seats For Special Needs
| Name | Weight Limit | Height Limit | Mode |
| --- | --- | --- | --- |
| Roosevelt Standard Special Needs Seat | 35-115 lbs. | 62" | Forward-Facing |
| Diono Radian 3R All-In-One Convertible Seat | 5-100 lbs. | 57" | Both Rear-Facing/Forward-Facing |
| Maxi Cosi Pria 85 Max Convertible Seat | 5-85 lbs. | 50" | Both Rear-Facing/Forward-Facing |
| Ride Safer Delight Travel Vest | 30 lbs and up | N/A | Forward-Facing |
| Special Tomato Seat | 51-130 lbs. | 65" | Forward-Facing |
| Cosco Dreamride SE Preemie Baby Car Bed | 5-20 lbs. | 26" | Rear-Facing: child lays down |
The Roosevelt is a great choice for children weighing under 115 pounds. It has an adjustable back to accommodate a variety of heights. 
The EZ-Up Headrest is equipped with a stylish hat to assist the child in holding up their head while sitting in the car seat. Lastly, its plush cushioning and soft fabric make it ideal for those long drives.
$949.00
in stock
1 new from $949.00
as of September 30, 2023 10:32 pm
What We Like 
Adjusts to any height

Very comfortable

Headrest and hat blend style and functionality
What We Don't Like 
The Diono Radian 3R is a highly durable car seat that is built to last and for comfort. It is so versatile that it can be used with your child with special needs and those without.
The Diono Radian 3R can be used as a rear-facing, high back booster, and low back booster for children up to 100 pounds.
It does, however, lack head support, so if that is what you need, this isn't necessarily the car seat for you. However, it's easy to clean and easy to install features that make it very attractive if you need just a step above a traditional car seat.
$184.99
$199.99
in stock
3 new from $184.99
as of September 30, 2023 10:32 pm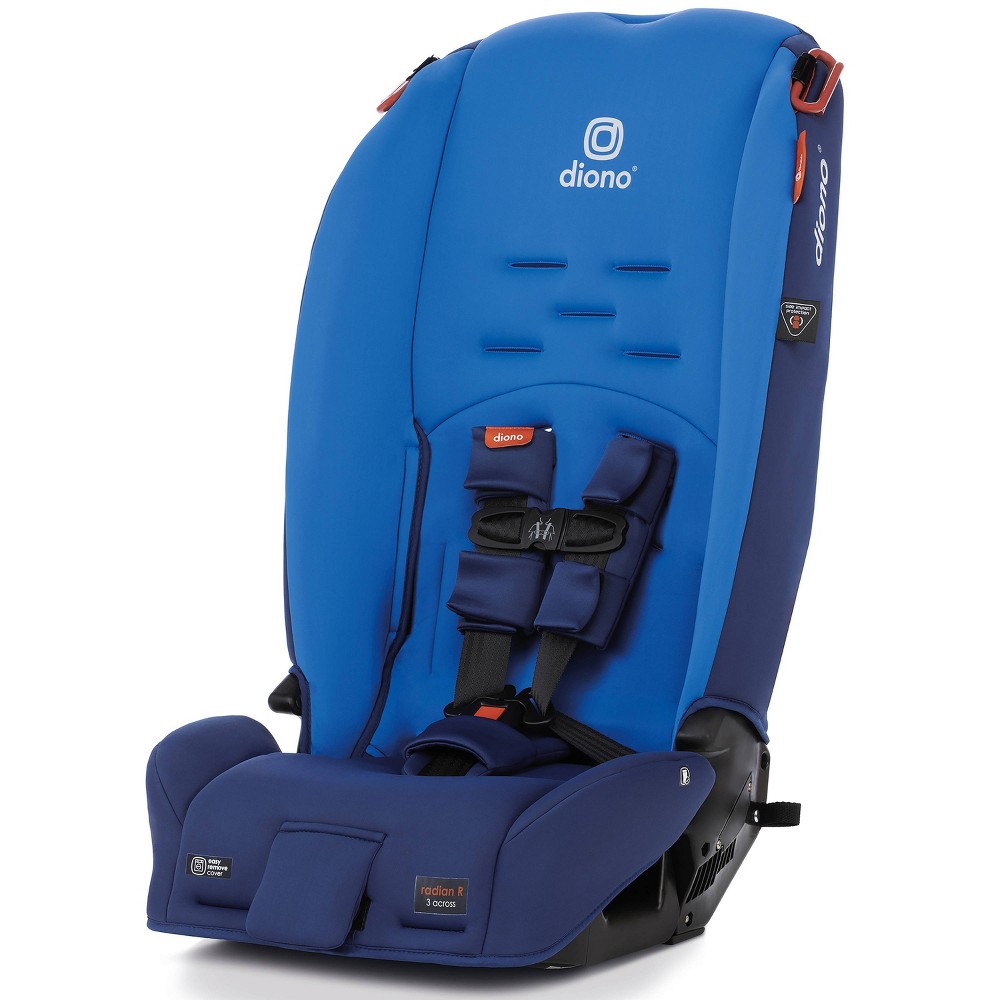 Target.com
What We Like
Easy to install

Easy to clean

Convertible

Very Safe
What We Don't Like
Does not meet all special needs

Lacks headrest
The Maxi-Cosi Pria 85 Max Convertible Car Seat blends comfort with safety. Certified for up to 85 pounds, you can be assured that this car seat will serve your special needs child for years to come.
The Maxi-Cosi posses softly cushioned seating that is easy to remove and clean. The five-point harness and air-filled head support insure comfort and maximum protection. The $269 cost for the longevity and durability you get with this system is money well spent.
What We Like 
Very high safety rating

Easy to clean and install

Accommodates up to 85 pounds

Great price for what you get
What We Don't Like 
If your child has outgrown their car seat or booster seat but still requires a little more protection and support than a traditional car seat belt has to offer, the Ride Safer Delight may be of great interest to you.
This harness vest system that ties into the car seat belt offers immense protection and safety. With its 3 sizes, this system will cover all children between the weights of 30-110 pounds.
It is also an acceptable alternative to booster seats. Starting at $159 certainly does make this system seem attractive as an alternative to other car seat options.
out of stock
as of September 30, 2023 10:32 pm
What We Like
Easy to install

Priced fairly

Safe alternative to traditional cat seats
What We Don't Like
No built-in head support

The many belts and buckles could be restrictive and hard to clean
If you are looking for a simple, sturdy, and easy to clean car seat, look no further than the Special Tomato Seat. Its built-in 5-point harness safely secures your child while implementing the car seatbelt to hold the entire system in.
Its seamless material makes it ideal for quick cleaning without jeopardizing comfort. Its current price of around $825 is a little high, but the durability of this seat will last you for several years.
$769.95
in stock
1 new from $769.95
as of September 30, 2023 10:32 pm
What We Like
Easy to install

Very Durable

Easy to transport

Functions as a separate seat

Easy to clean
What We Don't Like
High price tag

Not the prettiest seat out there
6. Cosco Dreamride SE Latch Infant Seat Car Bed Carrier
Maybe your child isn't big enough for a car seat just yet, and they are a prematurely born baby, or their body is just too frail for a traditional car seat we would highly recommend looking into the Cosco Dreamride.
This infant car seat bed is designed for babies between 5-20 pounds and who cannot support their head or body. It has a gentle 3-point harness and installs sideways. It's $199 price tag also makes it an affordable answer to your fragile infant needs.
out of stock
as of September 30, 2023 10:32 pm
What We Like 
Ideal for fragile babies

Alternative to infant car seat
What We Don't Like 
Not easy to remove and re-install to other cars

Maxes out at 20 pounds
Buyer's Guide
Before going out and purchasing any sort of big kid booster seat, a sensible consumer should take the following into consideration before making their big purchase.
Ease of Installation
One of the more overlooked features people make when looking for a special needs car seat is, how easy is it to install?
Many car seats of this nature are extremely expensive, and if you plan on having only one and moving it from car to car the ease of installation is most definitely a feature that you want to take into consideration. It's already difficult getting out the door, and the last thing you want to do is struggle to install your car seat.
Durability
Durability is another important variable you want to consider. Again, special needs car seats can be very expensive, and you want to purchase one that you know will hold up to any abuse it could possibly receive.
You also want to make sure that your investment lasts many years if you plan on using it for an extended period. Durability is probably the one thing you should think about if longevity is your intended goal for return on investment.
Ease of Cleaning
Often life throws us many curveballs, and messes are one of those. Life is busy, especially if you have a child with special needs, and you want a car seat that you can clean quickly and easily so that you can go on with the other joys in life.  
Price
As with many kid-related items, price plays a major factor in what you want to buy and what is sensible to buy. If you read through this entire post, you've probably noticed that there is a wide range of prices for special needs car seats. You must ask yourself, is the price I'm paying for this particular car seat necessarily address, under address, or over address my needs?
Accessories
The safety buckle pro was designed with escaping and unbuckling children in mind. Whether you have a toddler or special needs child that just doesn't like being buckled in, the safety buckle pro keeps them safely and securely locked into place. The strong ABS plastic fits overall seat belt latches and is easy for parents to use.
$11.99
in stock
1 new from $11.99
as of September 30, 2023 10:32 pm
The autism awareness, special needs seat belt cover is an essential piece of equipment for first responders in the event of an accident. Written in plain English, this seat belt cover tells the first responder that your child is autistic and may not speak or respond to questions. A simple piece of equipment that delivers important information when it is most critical.
The Kneeguard Kids car seat footrest is a unique accessory that allows children to place their feet on a platform so that their feet are not left dangling if they cannot touch the floor yet.
This device is doctor recommended to cut down on bad behavior because it increases comfort. It also increases safety because it supports the legs and knees in a collision.
$49.75
$54.99
in stock
1 new from $49.75
as of September 30, 2023 10:32 pm
The Kenley Kids Travel Tray is great for any child with or without special needs as it offers children and parents a place to work on activities and have meals. It also provides ample storage for those essential traveling needs. Its ability to easily clean and breakdown for storage makes it a perfect car seat accessory for any occasion.
$31.97
$38.97
in stock
1 new from $31.97
as of September 30, 2023 10:32 pm
Frequently Asked Questions
Does Medicaid pay for special needs car seats?
The Short Answer is in some cases it does. For more detailed answers check out our post about special needs car seat payment options. In some cases, Medicaid will cover the cost of a special needs car seat.
If not, there are also local programs, and even some insurances may help. It'd be best to speak with your pediatrician or look for a children's hospital to get more information on programs that may be available to you.
What is a car seat bed?
A car seat bed is a type of car seat that lies flat as opposed to an inclined position. It is most often used with premature or fragile babies.
How do I stop my toddler from escaping the car seat?
There are many methods and strategies for keeping your toddler from escaping their car seats, such as good modeling and positive reinforcement. If those methods fail, you can use a button-up shirt to button the front of it over the harness.
What is an adaptive stroller?
An adaptive stroller is a stroller specifically designed for special needs children who are too young for a wheelchair and offer a lightweight, portable, and easy to load/unload option when you want to go out and about with your child.
Your Decision Just Got Easier!
So there it is the top 6 car seats for children with special needs that we researched and analyzed for you. We hope that we made your life just a little bit easier in making this very involved yet important decision.
Also, we hope that the accessories and FAQS section helped to ease any concerns or confusion you may have had. We wish you the best of luck on your quest and decision and remember that we are here for you!