The Graco Sequel 65 car seat is an FAA-approved product designed with safety in mind. It features side impact protection, an adjustable headrest, and a five-point harness system that can be adjusted as your child grows. In addition, the seat is easy to install and comes with a removable cup holder. This Sequel 65 is the car seat for the prudent parent looking for a mid-sized product that provides value for money.  
Since I started testing car seats following the birth of my first child, I now consider myself an expert at determining whether any seat is worth a second look. Since I am reviewing the Graco Sequel 65, I have deemed it worth a second look. After testing this car seat, I can confidently say that it is an excellent choice for parents looking for a safe and reliable car seat for their children.
This car seat has a weight capacity of up to 65 pounds, making it suitable for children from birth to 8 years old. Additionally, it comes with a 10-year lifespan. After testing the Graco Sequel 65, I can confidently recommend it to any parent. 
It's easy to recommend. The hard part is providing convincing reasons why this is an excellent seat. It is the hard part that I will aim to accomplish in this review. So, if you want to know this product's specifications, features, and pros and cons, settle down and read the article to the end. I will conclude by answering some of the most frequently asked questions.
Overview of Graco Sequel 65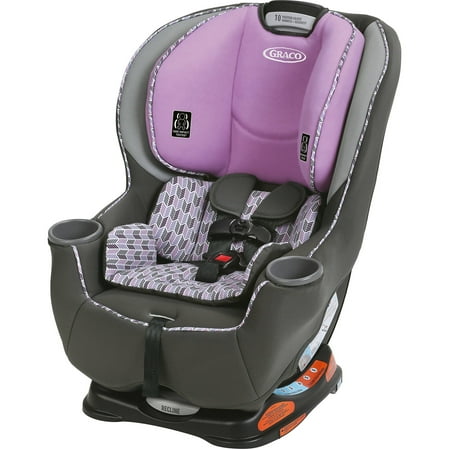 Walmart.com
out of stock
as of September 28, 2023 9:48 am
Amazon.com
As a parent, searching for the perfect car seat can feel daunting- safety, installation, and comfort all factor in. The Graco Sequel 65 aims to simplify life with its convertible car seat option.
The seat also has side-impact protection and a steel-reinforced frame for added safety. Plus, it's machine-washable, making clean-up a breeze.
Overall, the Graco Sequel 65 is a reliable and long-lasting car seat option that will give parents peace of mind and save them money in the long run.
This car seat can transition from rear-facing for infants up to 40 pounds to forward-facing for toddlers up to 65 pounds. It also includes a five-point harness for added safety, an easily adjustable headrest, and a machine-washable cover.
According to Graco, Sequel 65 can be used for up to 10 years with proper care and maintenance.
Here is a glance at Sequel 65's main features. 
⚙️ Graco ProtectPlus Engineered means the product has been rigorously tested for rollover, rear, side, and frontal crushes. 
⚙️ No-Rethread Simply Safe Adjust ensures you can simultaneously adjust the harness and headrest. 
⚙️ 10-position headrest adjustment. 
⚙️ 6-position recline. 
⚙️ LATCH systems make the seat easy to install. 
⚙️ EPS, energy-absorbing foam, means a safer seat occupant in a crush. 
⚙️ The seat pad can be removed for washing. 
⚙️ The frame is reinforced with steel. 
⚙️ Cup holders for the child's drink and snacks. 
⚙️ Level indicator. 
Check out the Graco Sequel 65 product specifications in the table below:
| | |
| --- | --- |
| Specification  | The numbers  |
| Product dimensions  | 22.13 x 19.25 x 25.16 Inches |
| Product weight  | 17.6 lb |
| Seat depth  | 11 in |
| Rear-facing seat holding capacity  | 4-40 lb |
| Age range  | New-born to 7 years |
| Forward-facing seat holding capacity  | 22-65 |
| Shell height, including the headrest  | 27 in  |
| Exterior widest point | 19.6 in |
Pros 
✔️ The Graco Sequel 65 is a well-designed convertible car seat with several unique features for your baby's safety and comfort. Here are some of the product's pros: 
✔️ Sturdy construction makes it one of the safest choices in the market.
✔️ Easy to install and has a convenient harness system that can be adjusted with one hand.
✔️ Keeps children rear-facing for longer.
✔️ Converts from rear-facing to forward-facing.
✔️ The crotch strap, recline positions, headrest, and harness are extremely adjustable. 
Cons 
❌ Lacks some premium features in higher-end car seats, such as a built-in cup holder or a removable cover.  
❌ Cleaning is a hassle.
❌ Even though FAA-approved, some parents have complained that the seat is too bulky for air travel.
❌ Some parents might find its size a bit cumbersome, especially if you have a small car.
❌ Transitions only from rear-facing to forward-facing and not to a booster
❌ As a convertible seat, it does not have a base, meaning it cannot be moved easily from vehicle to vehicle or attached to a stroller.
Why You Should Buy The Sequel 65
So, what are the most important features of this car seat that make me recommend it? For starters, it accommodates a wide range of weights and heights, making it suitable for infants and young children up to 65 pounds.
Its adjustable headrest, six recline positions, and Simply Safe Adjust Harness System ensure a perfect fit as your child grows. Graco's rigorous crash testing and side-impact protection give parents peace of mind on every ride.
Let's look at what all these features look like in your day-to-day interaction with your Sequel 65:
Graco Sequence 65 Convertible Car Seat, Codey , 22.13x19.25x25.16 Inch (Pack of 1)
out of stock
Buy Now
Amazon.com
as of September 28, 2023 9:48 am
Enhanced Safety
Like all the other car sets by Graco, the Sequel 65 has impressive safety features, including the LATCH system. This system makes it possible to attach the car seat without a seatbelt. You can also use the seat belt, but the instruction from the manufacturer is that you should NEVER use a seat belt and the LATCH system simultaneously.
The seat product is FAA-approved, meaning your child can sit on it during a flight. However, as I always recommend, check with the airlines beforehand so you can know what their specific policies are.
Graco promises, "This child restraint meets or exceeds all applicable requirements of Federal motor vehicle safety standard 213 for use in motor vehicles." However, for your peace of mind, you can always get your child's car seat checked by a safety technician. More information is available from www.nhtsa, www.seatcheck.org, and www.safekids.org.
Easy Installation and Adjustments
The Sequel 65 has various installation options, including a unique level indicator to ensure the correct recline angle. Its adjustability is excellent, with ten headrests and six recline positions.
Check out the video I created below to help parents quickly install the Sequel 65.
Comfortable Rides
With safety and comfort as the top priorities, the Graco Sequel 65 delivers a superior experience for both parent and child. The 10-point headrest perfectly exemplifies Graco's commitment to your baby's comfort. Add the 6-position recline, and you know that you will always have a happy camper when traveling with your baby. 
Even though the main job of the EPS energy-absorbing form is to ensure the child is safe during a crush, it is also essential in relation to ensuring the child is protected from the everyday bumps on the road.
Honest Customer Reviews
Overall, the Graco Sequel 65 is a well-liked car seat. Parents appreciate that they can keep their little ones rear-facing longer due to the 40lb rear-facing weight limit. They also like that the car seat is simple to adjust with levers. The headrest and harness, as well as the recline, can be adjusted with one hand.
One concern among parents was the seat width when measured at the cup holders. The dual cup holders flare out, making the seat rather wide. This is not too much of a concern in a car unless you are trying to fit in multiple car seats.
However, parents did have an issue with the width when flying. The cup holders make the seat too wide to fit comfortably on airplane seats. It is important to note that the cup holders must be attached to the seat before use.
Parent Likes
✔️ Easy adjustability
✔️ Converts from rear-facing to forward-facing
✔️ Removable, washable seat cover
Parent Dislikes
❌ Seat width, especially with airplane use
Customer Reviews on Installation
The seat is easy to install and adjust. The harness/headrest and recline adjustment is made with levers and can be done with one hand. The marked bubble level indicator ensures correct positioning.
The Sequel 65 is uncomplicated to install whether you use the LATCH system or your vehicle's seat belt. All belt paths are marked and colorized.
Expiration Information
The Graco Sequel 65 has a ten-year life span from the date of manufacture. This date should be located on your car seat label.
Warranty
Graco provides a limited warranty on its products. If you discover an issue with your product during the warranty period, Graco recommends that you contact them so that they may replace or repair the part.
Some states do not allow limitations on warranties; therefore, all exclusions may or may not apply to you. In most cases, Graco's standard warranty expires one year after the date of purchase.
Cleaning
Thankfully, the seat pad is removable and machine washable in a cold setting. It can be removed by raising the headrest, unthreading the harness, and taking it off the car seat shell. If you prefer not to remove the entire cover, it can be spot cleaned with a damp cloth and mild soap.
The crotch buckle can be spot cleaned with cool water and a cloth. The buckle can be submerged in warm water if it is filled with debris. You should take care not to soak the crotch strap and not to use any soap or detergent.
The harness straps and buckle can be wiped down with a damp cloth and mild soap. Do not soak or immerse the harness straps, which could weaken their integrity.
out of stock
as of September 28, 2023 9:48 am
The Bottom Line
In conclusion, the Graco Sequel 65 is a versatile and dependable convertible car seat that offers your child comfort and protection from infancy to toddlerhood. With its easy-to-adjust harness system, multiple recline positions, and comparatively affordable price point, it's no wonder this car seat has made a name for itself among parents.
However, some users have noted issues with the seat's weight and size and difficulties with installation. As with any car seat, it's important to read and follow the instructions to ensure maximum safety carefully.
Ultimately, the Graco Sequel 65 is a solid choice for families looking for a mid-range reliable car seat to see their child through the next phase of their car-riding adventures.
If the Graco Sequel 65 does not quote excite you, don't fret, we have reviewed a host of other seats on this website.