Who doesn't love an affordable travel system? I absolutely love travel systems and was excited to have the chance to test the Evenflo Sibby. 
First and foremost, the Evenflo Sibby Travel System performed very well. It comes with an infant car seat that can only be used in rear-facing mode. It's lightweight, but packed with safety features. There is a cute infant insert that protects their head quite well.  
When I tested the car seat it was quite warm outside. I do think that the temperature-regulating fabric kept my child cool and comfortable. When it came time to remove the seat from the car, it snapped on the stroller with ease. One feature that stood out to me was the option to install a ride-along board. It can be removed and stored when not in use. 
As far as folding the stroller goes, it was quite easy to do. It folded up to a compact enough size to fit in my small trunk. It's not too heavy, either. The only issues I had with the whole unit was that the car seat is rear-facing only and the buckles were a little discouraging. 
I recommend this travel system to any family. It's perfect for large families, it's comfortable, and easy to fold and store.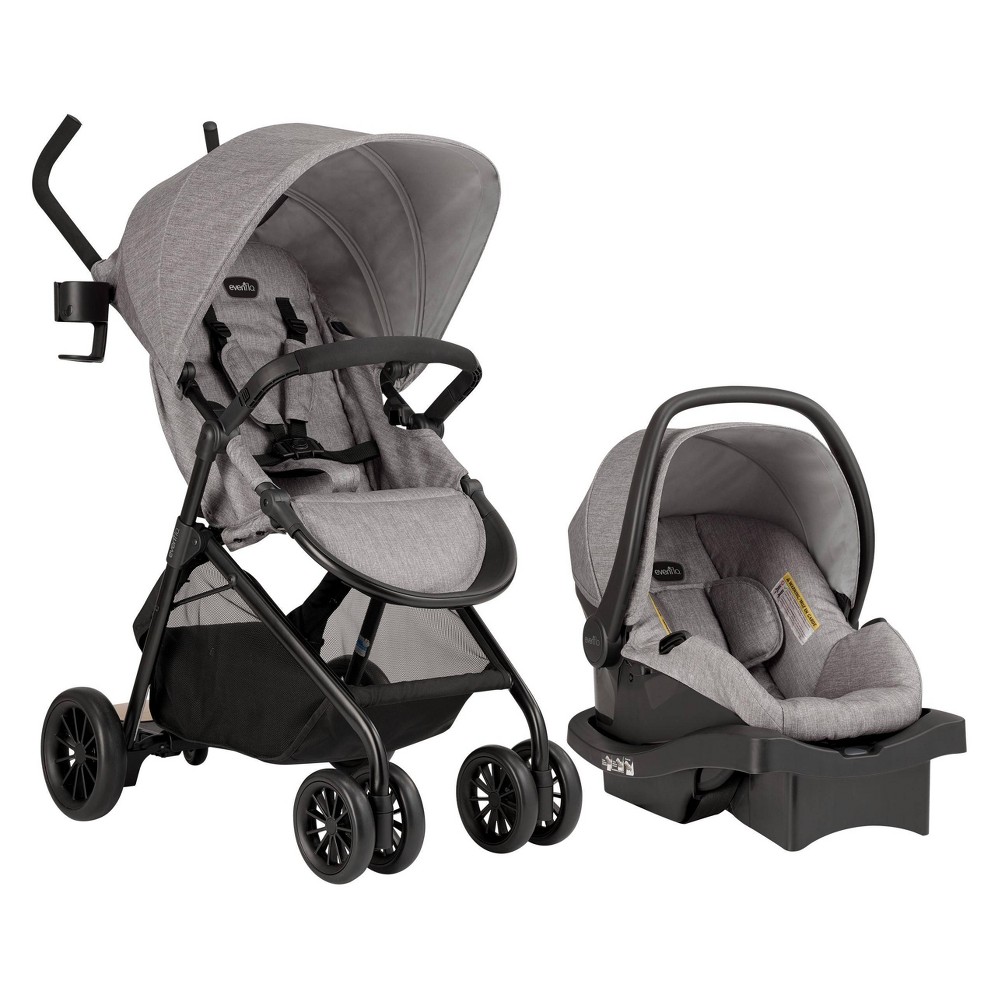 Target.com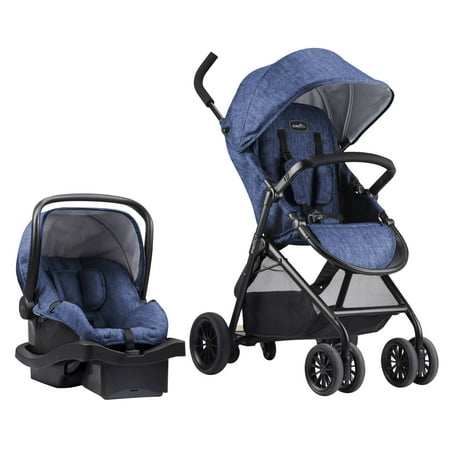 Walmart.com
out of stock
as of September 27, 2023 1:41 pm
Amazon.com
The Car Seat 
The Sibby Travel System contains the LiteMax 35 infant car seat. This car seat has active parents in mind and is one of the lightest car seats to carry. However, just because it is lightweight does not mean it lacks any safety features.
The LiteMax has a multi-position harness that can be adjusted as your child grows. The car seat is rear-facing only and accommodates children weighing 4-35 pounds.
Because of the extended rear-facing weight limit, you will likely need to occasionally adjust the harness. There are three shoulder strap positions, three waist strap options, and three crotch strap positions.
The seat comfortably fits even the smallest of infants with its removable padded insert. To keep your baby cool, the LiteMax 35 car seat has a temperature regulating fabric. The extendable car seat canopy protects them from the sun.
The car seat base offers two recline positions and has an easy-to-read colorized indicator. The base is uncomplicated to install thanks to push-button SureSafe LATCH connectors. Alternatively, the car seat base can be installed with only the seat belt if your vehicle does not have LATCH anchors.
For extra security, the base contains an extra-grip lock off to firmly hold the threaded seat belt in place. The car seat may be used without the base by threading the seat belt through the guided belt path. Finally, the car seat is FAA certified and tested to meet twice the impact limits set in federal guidelines.
The car seat can be easily removed from the base with the press of a lever. The base can then remain in your car while you attach the car seat to your stroller.
The Evenflo Sibby Travel System stroller allows the LiteMax car seat to connect with a click. Your child can then remain in their car seat, facing you while you stroll along. The three-position car seat handles ensure that it is not only ergonomic to carry but can be stowed out of the way when attached to the stroller.
Other great offerings included with the stroller are an extended canopy with peekaboo, a mesh storage pocket, an extra-large storage basket, cruiser tires, and a parent cup holder. Two features that put the Sibby stroller over the top are the multi-position stroller seat and the ride-along sibling board.
The Sibby name originates from the convenience of the stroller for siblings. The ride-along board can be easily stored away when not in use. When a sibling wants to join, the board allows them to stand behind the stroller seat and in front of the parent while holding onto the stroller handlebar.
When your little one is ready to transition from the car seat to the stroller seat, they are sure to be safe and secure. The stroller seat can be adjusted from an upright position to a recline position. Similarly, the footrest has three available placements.
The large back wheels of the stroller are cruiser style providing great maneuverability. The stroller has a small turning radius, and the ride is smooth.
When finished, the stroller can be folded with one hand by pressing a release; the footboard does not even have to be removed.
The entire system is made for families on the go. The car seat, as mentioned, is extremely lightweight. Likewise, the stroller is simple to fold and easy to transport.
Evenflo Sibby Travel System, Stroller, Car Seat, Ride-Along Board, Oversized Storage Basket, 3-Panel Canopy, Multiple-Position Recline, Easy to Fold and Store, Materials, Charcoal
out of stock
Buy Now
Amazon.com
as of September 27, 2023 1:41 pm
To Recap
The Evenflo Sibby Travel system contains a stroller, the LiteMax 35 car seat, and car seat base
The car seat is easy to install and effortless to carry
The stroller allows the car seat to click on or can be used alone in multiple reclines
The ride along board allows siblings to use the stroller as well
It is available in the following colors: raspberry, grey mineral, slate blue, or charcoal
Recommended Use
Car Seat
Rear-facing only
Suits children 4-35lbs and 17-32 inches in height
Six-year expiration date from the date of manufacture
Stroller
Stroller seat accommodates children up to 50lbs
Ride-along board can be used by children weighing 50lbs or less
For use by children aged newborn to five years
Unique Features
Car Seat
Washable and removable seat pad
Full coverage canopy
Lightweight (weighs 8.8 pounds)
Multi-position harness
Stroller
Ride-along sibling board
Oversized storage basket and extra mesh pocket
Sport-style comfort handles
Cruiser wheels with enlarged rear tires
Specifications
Car Seat
Seat weight: 8.8lbs without base, 10lbs with base
Height: 24"
Seat depth: 28.5"
Listed seat width: 19"
Stroller
Length: 43.75"
Width: 34"
Height: 22"
Weight: 19.85
Expiration Information
There is no expiration date listed for the stroller included with the Evenflo Sibby Travel System.
The car seat and base included in the system expire six years after the date of manufacture. This date can be found on your car seat label or in your owner's manual.
The Evenflo Sibby Travel System
Pros
Three necessities in one system
A stroller can be used by two children at once
The car seat is one of the lightest models
The stroller has many great features for parents
Cons
Can be difficult to fit in smaller cars as 1.5" must remain between the vehicle seat back and the car seat
The car seat is long
Car seat is rear-facing only
Buckles may be hard to undo
Evenflo Sibby Travel System vs. Chicco Bravo LE Travel System
The Evenflo Sibby Travel System and the Chicco Bravo LE Travel System share many features; however, there are some key differences. Both systems allow for a car seat to easily connect to the stroller and the car seats have an adjustable base and harness system, a canopy, a removable infant insert, and the LATCH system.
Both of the strollers can be folded for transportation, and they both can accommodate children up to fifty pounds. Further similarities include a reclining seat, a canopy, a large storage basket, and cruiser tires.
However, the Bravo LE system has a child tray as well as a parent tray with two cup holders.
The single bar handle can be moved to one of three positions for parent comfort, and for your little one, it includes a removable padded seat cushion. One thing it does not feature is a ride-along board for sibling use.
The final notable difference is the price. The Chicco Bravo LE Travel System is markedly more expensive than the Evenflo Sibby Travel System.
Similarities
Similar car seat weights
Similar car seat features (canopy, adjustable harness, multi-position recline, removable infant inserts)
Both strollers have a storage basket, canopy, cruiser tires, reclinable seat, and fifty-pound weight limit
Both strollers easily fold for transport
Each stroller has a quick connect feature for car seat attachment
Differences
The Chicco car seat does not have an extra-grip lock off but instead the SureCinch feature for LATCH anchors
Stroller by Chicco does not have a sibling ride-along board
The Chicco stroller does not have a multi-position footrest
It has two parent cup holders, a parent tray, a child tray with cup holder, removable seat cushion, and accommodates two additional car seat models
The Chicco Bravo LE Travel System is more expensive
Compatibility
The Evenflo LiteMax 35 as part of the Sibby Travel System includes adapters that allow it to attach to your Sibby Travel System Stroller. The stroller does not accommodate any other car seat.
Similarly, the car seat can only be used with the LiteMax base. It cannot be used with any other base from any other manufacturer.
Off-brand adapters that allow your LiteMax 35 car seat to attach to a different brand of stroller may be available online. However, any product produced by a company other than your car seat or stroller manufacturer may void your product warranty.
Who is Evenflo?
Evenflo is a subset of the company Good Baby International. However, the Evenflo company is headquartered in the United States and was founded in the 1920s.
Over the many years of its operation, it has become a trusted parent name for various baby products. All of their items face rigorous safety testing and are designed with the comfort of both the child and parent in mind.
Honest Customer Reviews
Parents enjoy the fact that this bundle provides them with all three must-haves, a car seat, a stroller, and a car seat base. The inclusion of a ride-along board for a sibling is a welcome addition. The stroller and car seat each have many great features to keep your little one safe and comfortable.
One complaint among parents was the length of the car seat. Some found that it was too long to fit comfortably in smaller vehicles, especially with the installation caveat that the vehicle seat must be at least one inch away from the car seat.
Additionally, a few parents remarked that once their child was over twenty pounds, it was difficult to get the seat level. Thankfully, the colorized and clearly marked level indicator should help with this.
Parent Likes
Three necessities in one package
Ride-along board for a sibling
Great stroller features such as the oversized storage basket, extendable canopy, and infant seat connectors
The addition of many nice car seat features, such as a removable/washable seat cover and adjustable harness
Parent Dislikes
The seat may be too long for some vehicles, causing the driver or passenger to sit uncomfortably far forward
Difficult to make the seat level once the child weighs over twenty pounds
Matching Accessories
Evenflo produces a few of their own accessories to be used with their Sibby Travel System. The rain shield will be sure to keep your little one dry when you are out and about. It attaches to the handlebars and provides full coverage all the way down to the footrest. The side panels feature zippers to easily gain access to your child, as well as mesh for ventilation.
The universal cup holder is also produced by Evenflo. Not only will it attach to your stroller, but almost any other item with tube-style manufacturing, such as a shopping cart. It won't let your drink slip thanks to its extra-grip rubber lining. It is lightweight and sturdy, so it can be used over and over again.
Frequently Asked Question 
How much does the Evenflo Sibby stroller weight?
The stroller weighs just under twenty pounds at 19.85
In the seating area, there is a seat folding strap; it is generally stored in a pocket. Once you have made sure the rear brakes are on, and the canopy is closed, you can pull the seat fold strap. The stroller will then collapse and click into the folded position.
To unfold, unlatch the lock on the side of the frame just above the wheels. Pull upward on the handlebars until it pops open and clicks into place.
How do I clean my Sibby stroller?
The fabric of the stroller can be spot cleaned with cool water and soap. Do not immerse the fabrics or soak them. Using harsh cleaners is also not recommended.
Metal and plastic pieces can be wiped down with a damp cloth and then dried. The Evenflo manual states that on occasion, a small amount of vegetable oil can be applied to moving parts to reduce normal wear and tear.
out of stock
as of September 27, 2023 1:41 pm
Safe and Versatile
The Evenflo Sibby Travel System is the perfect package for parents who want it all. Because the car seat, base, and stroller come as a bundle, they pair seamlessly with one another.
The stroller includes a ride-along board for brother or sister as well as numerous other attributes that both parent and baby will enjoy.
The stroller can be easily folded for transportation, and both the stroller and car seat are astonishingly lightweight.
If you are looking for a safe and versatile travel system that has the ability to accommodate a sibling as well, look no further than the Evenflo Sibby Travel System.