Evenflo pink car seats are just too cute. In this post, we will identify the best Evenflo pink car seats. And the best part? All of these seats have adorable patterns in blush, raspberry, or rose! 
Evenflo is a quite well-known brand name and manufacturer of merchandise for children. Some of Evenflo's best products are their car seats. The company works hard to be a partner to parents and not just a retailer.
Their main objectives when designing and manufacturing a car seat are safety, the wellbeing of your child, and parent satisfaction. Any of the car seats below would be a great choice for your little one! 
Evenflo Infant Car Seats
The Evenflo LiteMax is for use by infants weighing four to thirty-five pounds and thirty-two inches or less in height. It is a rear-facing only car seat.
The LiteMax portion of its name comes from the car seat weight, being a very light sixteen pounds. Its weight, along with the ergonomic handle makes this car seat a breeze to carry.
It is very adjustable. Evenflo LiteMax has three available harness positions, two crotch strap positions, and three waist strap options. It also offers two recline options.
The base includes a colorized level indicator to help you achieve proper placement. Like the previous model, this seat has removable head support, a full-coverage canopy, and can be installed with or without the base.
Some additional offerings include a removable and washable seat cover, compatibility with the Sibby stroller or tandem ride-along stroller, and belt-lock off. This seat is a little bit of an upgrade from the Evenflo Embrace. 
out of stock
as of September 28, 2023 1:22 am
What We Like
Stroller compatibility

Thirty-five-pound weight limit

Removable and washable cover

Belt-lock off
What We Don't Like
Difficult to release from the base

Head support pillow can't be used long because of fixed height
The Evenflo Sonus is yet another convertible car seat; however, it only converts from rear-facing (5-40lbs) to forward-facing (20-65lbs). This car seat is quite versatile, offering two recline positions, six harness positions, and two crotch positions. The removable head and body pillows provide extra infant support.
Dual cup holders are a favorite of car seat occupants, as are the harness strap covers that limit irritation from the belts. The seat cover is removable and machine washable so it can stay looking fresh throughout the seats six-year lifespan. 
The Sonus has built-in side impact protection to keep your little one safe. However, this added layer doesn't mean they will be too warm as the seat also features included ventilation to prevent overheating.  
Overall, it is a great seat for a rather low price. For a more detailed review of Sonus 65. 
$119.99
in stock
1 new from $119.99
as of September 28, 2023 1:22 am
What We Like
Dual cup holders

Extended rear-facing and forward-facing weight limits

Built-in ventilation

Budget-friendly
What We Don't Like
The wide base may not fit well in smaller vehicles

Rear-facing recline position may cause the vehicle seat in front of the infant seat to be pushed far forward
This is a long-lasting car seat and not only due to its eight-year lifespan. This car seat converts from rear-facing (5-40lbs) to forward-facing (22-65lbs), and finally to a seat belt booster (40-110lbs). 
This car seat receives high safety ratings. It includes a recline level indicator, Evenflo's SureLatch connectors that auto-retract and tighten, and E3 side-impact protection. The seat is highly adjustable, offering an effortless headrest and harness adjustment system with multiple positions, multi-position recline, and removable support pillows for the head and body. 
Seat occupants will enjoy the dual cup holders, and parents won't have to worry about spills as the easy-off seat cover is removable and washable. The Symphony Elite is one of Evenflo's top-rated car seats overall.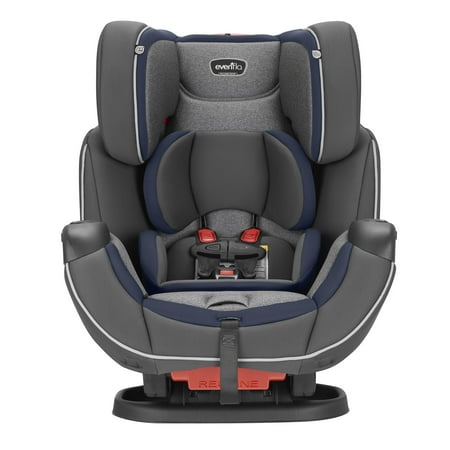 Walmart.com
out of stock
as of September 28, 2023 1:22 am
What We Like
Dual cup holders

Easy off washable seat cover

Full support pillow for both head and body

SureLatch auto-retract connectors
What We Don't Like
Bulky and heavy

Difficult to tighten the harness straps all the way
4.Evenflo Spectrum Booster Car Seat in Sunrise – Both Highback & Backless
This car seat has one of the coolest color schemes, fading from black to pink. It is a booster model, but it converts to two positions, a highback booster (22-50lbs) and a backless booster (40-110lbs).
The Spectrum Booster is a seat belt-positioning booster, so it includes a belt path at the shoulders. The booster seat further accommodates your child with a nine position adjustable headrest to suit a variety of occupant heights.
Booster riders will also love the secret pull-out two compartment snack holder and the comfortable ergonomic armrests. The Spectrum Booster includes Lyf+Guard. This extra layer of protection consists of highly compressible layers molded into wings, one on either side of the headrest.
These compress to help reduce force in the event of an impact. This is a "car seat" even big kids will enjoy. 
out of stock
as of September 28, 2023 1:22 am
What We Like
Lyf+Guard Technology

Machine washable cover

Secret snack holder

9 position headrest
What We Don't Like
The Maestro has two available positions in booster mode. One as a five-point harness booster (22-50lbs) and the other for use as a seat belt-positioning high back booster (40-110lbs).
In order to keep your not-so-little one safe, the seat features a belt guide at the shoulder, so as your child grows, the seat belt will remain in the safest position. The harness straps can be adjusted to any of four possible heights. To tighten the harness, there is a convenient upfront button located between the occupant's lower legs.   
Children will be kept appeased with dual cup holders and armrests. The seat pad is removable and washable and can even be placed in the dryer. The Spectrum features side impact protection and provides excellent safety without being too bulky.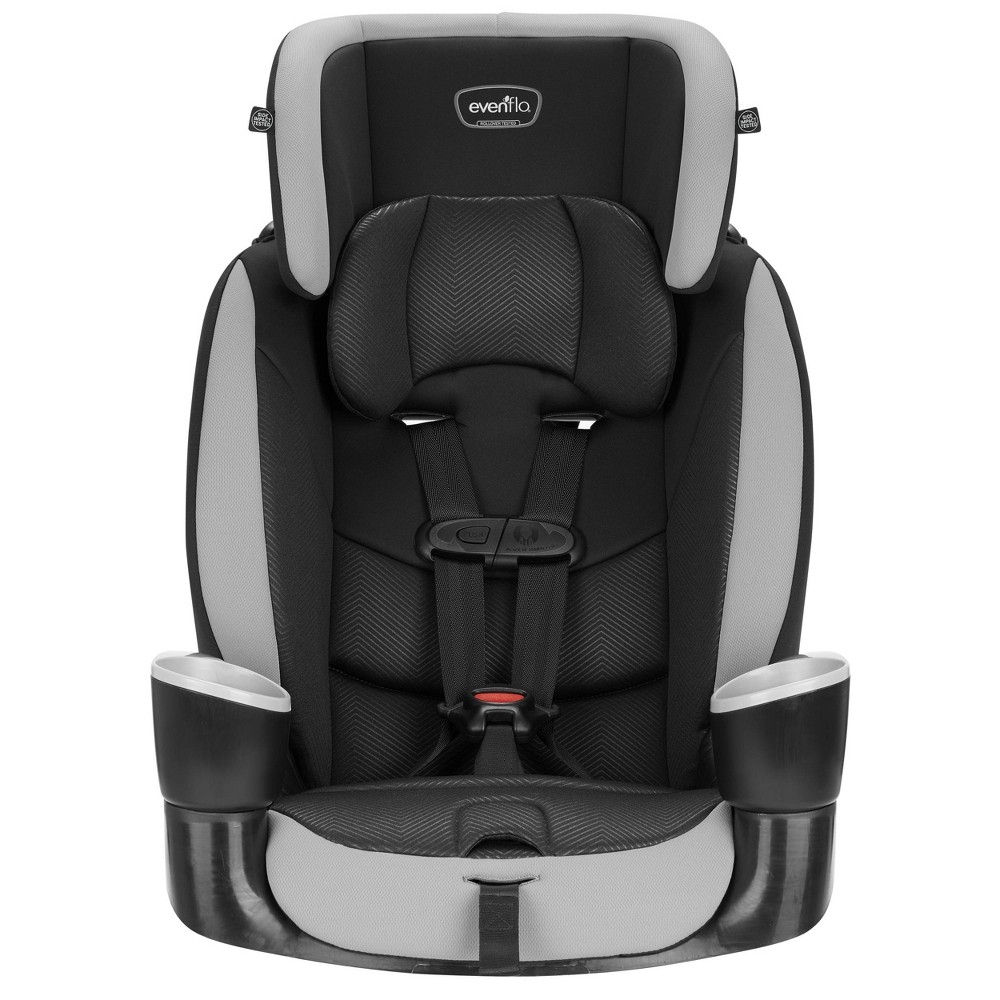 Target.com
out of stock
as of September 28, 2023 1:22 am
What We Like
Can be used with the five-point harness

Belt guide at shoulder

Washable and dryer allowed seat cover

Optional LATCH installment
What We Don't Like
Difficult to install 

Hard to find replacement parts

Harness straps are not "no re-thread"
Buyers Guide
Safety
Safety is always number one when it comes to car seats. The job of a car seat is to keep your child safe as their small bodies cannot be adequately protected by only your vehicle's restraints or airbags.
It is important to continue using car seats from birth until they can safely transition out of a booster seat. A sturdy car seat that is properly installed is imperative to your child's wellbeing in the event of an accident.
Ease of Cleaning
Kids of any age are prone to making messes; it is a fact of life. Therefore, you should consider how simple it is to clean your car seat of choice. Some have removable seat covers that can be thrown in the washing machine, while others can only be spot cleaned.
Furthermore, some seat covers are rapid-remove and are a breeze to take off while others take a bit of work. Knowing spills are in your future, consider how much time and effort you want to devote to cleaning them up. 
Durability
Straps that fray or buckles that break are no good when it comes to car seats. As these features are responsible for keeping your little one safe, you want them to stand the test of time and use. 
Additionally, as car seat lifespans are lengthening, there is a chance that the seat could be used with a sibling. Durability should be a consideration not only for the length of use but for safety. 
Pricing
The cost is the final and most obvious consideration. Some car seats are moderately priced; alternatively, others can be quite expensive. You will want to choose a seat that doesn't skimp on any of the most important features but also doesn't break the bank.
Safe & Stylish Evenflo Pink Car Seats
The most obvious consideration is which type of car seat will fit your child appropriately. Convertible car seats are the most accommodating as they can adjust to a range of weights, heights, and ages. 
Beyond that, you should consider price, safety features, and ease of use. The type of vehicle you drive may also have an impact on your choice as some car seat models are bulkier than others.
Finally, you should think about what aspects of a car seat are most important to you. Do you want something that is tailored to infants but may only last you a year or two? Or do you prefer something that transitions but may not be as suited to small babies? No matter which car seat you choose, all of these Evenflo models are stylish and perfectly pink!