The Evenflo Chase LX is probably one of the most affordable booster seats on the market, but I think that the price does reflect performance in this case after reviewing the product. 
Out of the box the car seat seems like it would be a great fit for my child, but it wasn't. I was immediately disappointed by the flimsy and thin fabric. There have been issues of poor quality and degrading of the fabric, which I can see happening. Additionally, the straps twisted very easily. 
I do like the fact that the seat is lightweight and washable. I was able to remove the seat pad easily and put it in the washing machine. Additionally, the cupholders were a nice addition as it helped keep my child's snacks and drinks secure. 
Lastly, I want to mention installation. Installation was easy, but removing it from the car was difficult. Once latched, the straps were difficult to unhook from the anchors in my car. This was a complaint from other people too. 
I don't recommend this booster, even at such a low price. I suggest spending the extra money on a more reliable booster with better quality fabric and less uninstallation issues.
Price Comparison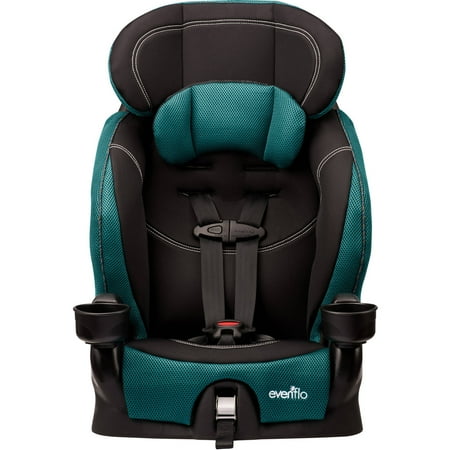 Walmart.com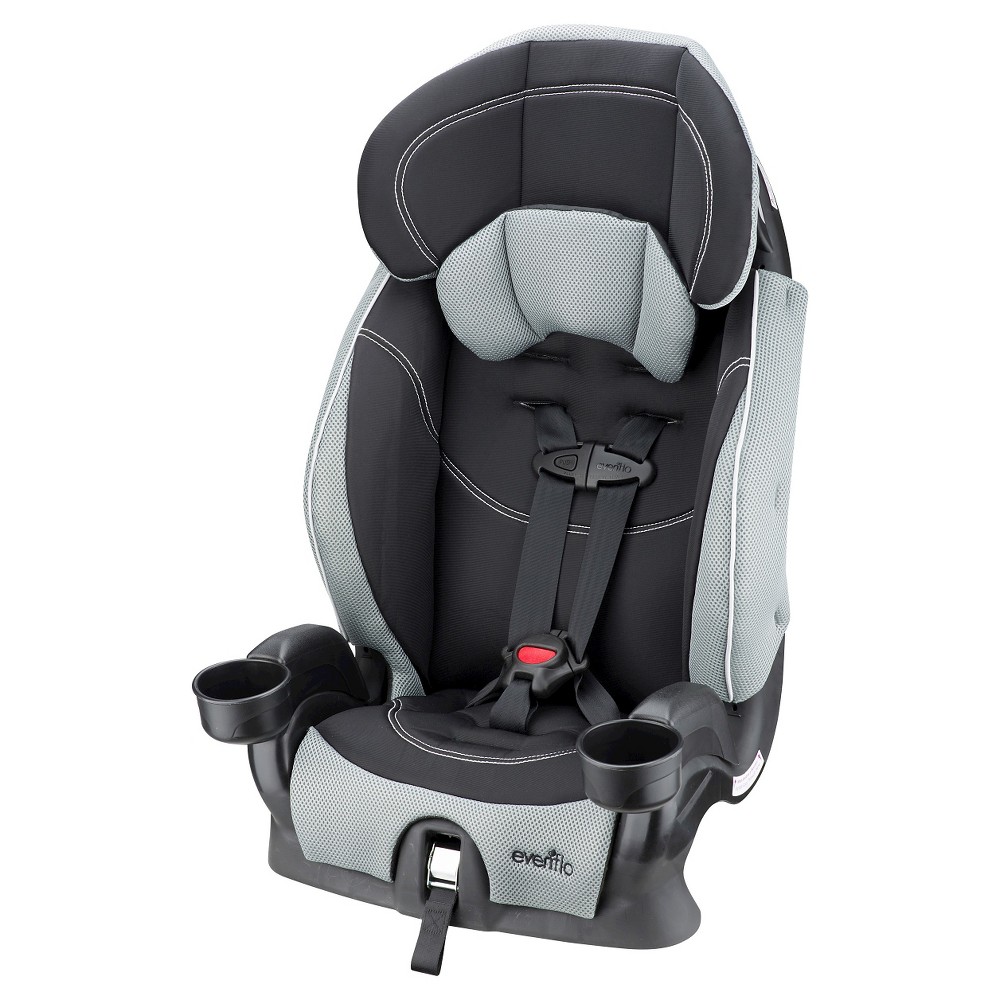 Target.com
$79.99
in stock
1 new from $79.99
as of September 26, 2023 10:59 am
Amazon.com
Free shipping
Specifications and Features

Weight: 9.14 pounds. 

Width: 18.5 inches. 
Positive Reviews 
The company boasts the ability to continue to innovate in ways that support families and find innovative solutions for their lives. 

The Chase is no different in that goal to innovate for the betterment of parents and families 

The convertible five-point booster offers options for growing children to use the same seat for many years. 

It is a forward-facing seat that can only be used as a high back and is not appropriate for children younger than two years old. 
Other Popular Models 
There are a few models of the Evenflo Chase LX Booster include

the Evenflo Chase Harnessed Booster Jubilee. 

the Evenflo Chase Harnessed Booster Jameson. 
These models include the same features and basic specifications but differ in color design and fabrication, only. 
Installation 
The Evenflo Chase LX Booster Car Seat is two seats in one. The Evenflo Chase LX Booster Car Seat manual Manual outlines the most important specifications for families to consider.  This seat is meant to be used in the forward-facing mode only. 
In its harnessed seat installation, children should

Weigh between 22 and 40 pounds 

Measure between 28 and 50 inches tall 

Be at least 2 years old 
In its seatbelt installation, children should

Weigh between 40 and 110 lbs. 

Measure between 43.3 and 57 inches tall 

Be at least 4 years old 
Weight Requirements. Many parents report frustration with the 40-pound maximum for the 5-point harness. Oftentimes, children were 40-pounds, but not tall enough for belt positioning.
Evenflo Chase Harnessed Booster, Jubilee
1 new from $79.99
Free shipping
Buy Now
Amazon.com
as of September 26, 2023 10:59 am
Safety Ratings
According to the National Highway Traffic Safety Administration (NHTSA), all manufactured car seats meet Federal Safety Standards and crash performance standards.
The NHTSA rates seats on their ease of use out of five stars. 
The Evenflo Chase LX earned two out of five stars. The

NHTSA

noted that this particular seat does not come assembled, so parents need to use tools and screws to fully assemble the seat. This, if done incorrectly, could be a safety concern. 

According to

Evenflo

, the seat has been side-impact tested as well as strict company safety requirements. The seat meets or exceeds all applicable federal safety standards. The seat has been designed two times the federal crash test standard. Evenflo tests its seats at high and low temperatures. 

The seat meets FMVSS 213 and 302, plus Canada's CMVSS 302 and 313. 
Expiration Dates 
Each Evenflo seat has the expiration date clearly attached to the car seat.The Chase Booster expires eight years after its manufacture date. Parents should be sure to always check their car seat's expiration date that is physically attached to the seat. 
Each seat comes with different specifications, so families should be sure about the expiration dates of their seats. 
Recalls 
The following models used a harness crotch buckle which became difficult to unbuckle over time due to sticky substances (food and drinks). This made it more difficult for families to unbuckle and remove children from the vehicle. If the buckle is functioning normally, there is no risk. 
Affected Models 
Evenflo Chase, Chase LX, and Chase Select (manufactured 8/23/11-3/3/14) 
Solution
Evenflo provided consumers seats with a free kit to replace buckles. Parents and families can order a replacement kit by calling 1-800-490-7591. 
Here's a quick highlight of some of the positive customer feedback of the Evenflo Chase, which are mixed. There are many folks who seem to love the seat for its value and safety, and others frustrated by the weight/height requirements and quality. 
Unique Features 
The Evenflo Chase LX Booster has a few unique features that separate it from other boosters of its kind: 
1. Machine Washable Seat Pad.
Parents can quickly clean the seat pad by tossing it in the washing machine, drying for a few minutes on low, and letting sit to dry completely. 
2. Dual Cupholders.
Most boosters have cupholders, but the Chase offers fixed cupholders that do not expand the width of the seat. 
3. 2 Crotch Buckle Positions and Multiple Belt Positions.
This allows parents to adjust as necessary for their children to achieve a better fit. 
What We Like 
It's lightweight.

It's one of the lightest two-mode boosters on the market, so it's

convenient and easy for families.
Children can grow with the seat.

Many families keep this seat for years and use it for children as they grow-up. 

Great for flying with toddlers.

Toddlers will fly safely in this seat and because it's so lightweight, it's easy to carry through security and all of the hustle and bustle at the airport. 
What We Don't Like
Quality concerns.

Customers reported issues with the quality of the fabric and its

deterioration over time. 

Tricky straps.

They also noted that the straps can twist and become difficult to untwist. 

Easy installation, but difficult to get out of the car.

Parents say getting the seat in is a breeze, but getting it out might be a little trickier. Be sure to do a bit of research on uninstalling your seat should you need to move it. 

Highback Booster only. This seat can only be used as a highback booster. The top does not detach from the bottom booster portion. 
Features 
Flexible and versatile. The seat grows with children and can be used in harnessed or seat belt mode. 
Lightweight. This seat is extremely light and can be installed quickly and easily. 
Value. This particular booster is one of the most affordable on the market. 
Excellent return policy. Evenflo promises a 30-day return policy regardless of the retailer and a 90-day warranty. 
Easy Cleaning. The seat fabric pad can be machine washed. 
Safety. Evenflo tests their seats to withstand two times more than the national safety standard. The red tether also reminds parents to utilize this feature during installation. 
Dual Cupholders. The cupholders are built into the seat and offer two places for snacks and/or drinks to rest near the child. 
Removable Head Pillow. This allows parents to adjust the pillow as necessary or remove it entirely, as desired. 
FAA Approved. In the five-point harnessed mode, this seat is approved for air travel. 
The Chase and Maestro boosters are similar seats, but there seem to be higher parent approval review ratings on the Maestro versus the Chase.
The Chase is a lighter than the Maestro.

The Chase booster is a little bit lighter than

the Maestro. 

Lower price point.

The Chase tends to be a bit more affordable than the Maestro booster. 

Slimer than the Maestro. The Chase width measurements are smaller than the Maestro, making it easier to fit seats with multiple children in the back seat. 
Cons
Installation and uninstallation problems.

There are several reviews from parents and customers

 online about the difficulty of removing the seat from the vehicle. The Maestro does not report as many issues with uninstallation.
Quality. There are some fabric concerns with one design of the Maestro, but in comparison to the Chase, it seems that quality is less of a concern with the Maestro versus the Chase. 
$79.99
in stock
1 new from $79.99
as of September 26, 2023 10:59 am
Frequently Asked Questions 
Is Evenflo Chase FAA approved?
Yes. The Evenflo Chase can be used during air travel, but only in the five-point harnessed mode. 
How to adjust Evenflo car seat straps?
The straps can be adjusted easily in different crotch and shoulder locations. The manual offers a detailed step-by-step, but here's a quick overview. To adjust the crotch straps or shoulder seatbelt position, simply rethread the strap through the desired location from the back of the seat. 
What do you do with expired car seats?
There are many retailers that will exchange expired car seats and offer a coupon or credit towards the purchase of a new seat. Do not donate the seat to Goodwill or reuse the seat in any vehicle. Take advantage of a retailer's recycling seat program and capitalize on those savings.
Safe and Affordable Option
The reviews from customers and parents are mostly positive on the Evenflo Chase and its many different design options.
However, there are some concerns with uninstalling and quality over time. Overall, it's an affordable, safe, and reliable option for parents when choosing a car seat for their children. 
Looking for other high-quality booster seats? Our review of the "Graco TurboBooster | Top Graco Boosters" can help you find the perfect fit for your child. Check out our review!