Evenflo Big Kid Booster Seats are very popular due to their affordability and high safety rating. With so many models and features out there finding the right one could be daunting.
Fear not, because we took the time to find you the top 4 booster seats on the market. So please take a minute and review our findings so that we may help your decision be the right and simple decision. 
4 Best Evenflo Big Kid Booster Seats
| Name | Weight Limit | Height Limit | Mode |
| --- | --- | --- | --- |
| Evenflo Spectrum Booster | 40-110 lbs. | 57" | Both Highback/Backless Booster |
| Evenflo AMP Select Booster | 40-110 lbs. | 40" | Backless Booster |
| Evenflo Big Kid LX High Back Booster | 40-110 lbs. | 57" | Highback Booster |
| Evenflo Big Kid Sport No Back Booster | 40-100 lbs. | 57" | Backless Booster |
Are you looking to provide your child with an extremely safe and comfortable riding experience? Then look no further than the Evenflo Spectrum 2-in1 Booster Seat.
This system is specifically designed for safety as it is built with LYF+GUARD advanced compression technology which is built to absorb immense amounts of energy.
The ergonomic seat base allows for customized seat adjustment for any child's size, and the back support has nine height adjustments so this booster can grow with your child. Truly a gem of a big kid booster seat.
What We Like
Ergonomic Seat Base is Customizable

Built to last

Very comfortable for long rides

Easy to clean

Comes in many colors
What We Don't Like
Pricier than other big kid booster seats

Bulky
2. Evenflo AMP Select Car Booster Seat – Contoured Seating
If you are looking for a basic and economical big kid booster seat the Evenflo AMP Select is the ticket. Starting at around $23, this basic yet functional big kid booster is easy to clean with removable fabric and has a very comfortable contoured padding for long trips.
Although it is basic, it is beyond safe as it is tested to withstand forces two times the federal crash standard.
What We Like
Economical

Simple but safe

Easy to clean

Easy to install
What We Don't Like
Does not have a high back

Only comes in a blue flame design
3. Evenflo Big Kid High Back Booster Car Seat – Grows With Your Child
The Evenflo Big Kid High Back Booster Car Seat is a very sturdy no-frills, but all-around great big kid booster seat. One of the more popular big kid booster seats.
The Evenflo Big Kid High Back Booster adjusts to 6 different heights and converts from a high back to a no-back booster so you can be assured that this seat will grow with your kids and never have to be replaced.
What We Like
Very versatile and customizable

Easy to clean removable fabric

Lightweight and easy to move from vehicle to vehicle

Easy to install
What We Don't Like
 One of the more common models out there so you won't be unique
If you are searching for a no-back big kid booster you can stop your search with this lightweight, affordable, and safe seat. The Evenflo Big Kid Sport Back Booster possesses belt clips that help to install the chair in every car and style of seat belt ensuring a perfect fit.
It is easy to clean, and its lightweight construction makes it incredibly easy to transport from car to car which is great for those busy families constantly on the move.
What We Like
Easy to clean

Lightweight
What We Don't Like
Does not offer the same amount of protection as a high back big kid booster
Buyer's Guide
Before going out and purchasing any sort of big kid booster seat, a sensible consumer should take the following into consideration before making their big purchase.
Ease of Installation
One of the more overlooked features people make when looking for a big kid booster seat is, how easy is it to install? If this is an item that is going to stay in one vehicle during the entirety of its useful life then this isn't much of a concern.
However, if you are the type that is moving the seat constantly from one car to the next this is something you really need to consider because struggling to put a car seat in is just a level of stress you do not need nor want.
Durability
Durability is another important characteristic to take into consideration during your quest to purchase a big kid booster seat because durability means a couple of things. First, how well does it hold up over time? Secondly, and more importantly, how does it hold up in a crash?
Although not the most exciting thing to be researching, durability is possibly the most important thing you should be researching.
Ease of Cleaning
Kids… they are a blessing. A messy blessing, but a blessing nonetheless. In order for you to enjoy those blessings to their fullest extent, it's important to be able to clean up their messes much faster.
A booster seat that cleans up easily gets you to forgiveness faster and gives you more time to enjoy those special little memories. 
Price
As with many kid-related items price plays a major factor in what you want to buy and what is sensible to buy. Although you may pay a high price for the fancy model, do you really need all the bells and whistles that come with it? Or is it better to pay just the extra $10 to get the far better product?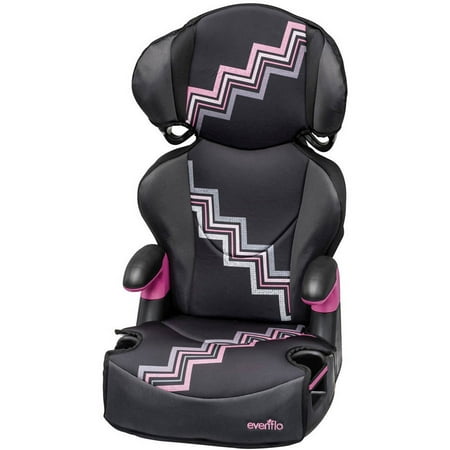 Walmart.com
out of stock
as of September 26, 2023 8:23 pm
Amazon.com
Target.com
Overall High Safety Scores
Most likely the most important safety product that you'll ever have to buy for your child is a big kid booster seat that you can trust will do its job in the unfortunate event that you may need it to.
If that time were to come you don't have the opportunity to second guess yourself. We hope that our research and findings will help to be confident in your decision and make your task a lot less stressful than it was before you read our article. Thank you and safe travels!