Britax makes comfortable and versatile baby products that may come with a price, but they're usually worth it. I got my hands on the Britax B Ready Bassinet and tested it out. 
I'm going to throw this out here, but I'm not sure why anybody would purchase this bassinet alone without a compatible stroller.
Luckily, I had a compatible stroller already, so it made using the bassinet easier. Without the stroller, the bassinet is essentially useless unless you want to lug it around all of the time. 
I do like how the bassinet allows my baby to roll around and move without being strapped in. It's like a bed on wheels. I easily snapped the bassinet onto the compatible stroller with ease. With the special and optional stand, you can use the bassinet for sleep. 
While my child was in the bassinet they had an accident that required me to wash the fabric. It was easily removable, but I had to wash it by hand. It was kind of a pain. 
If you don't have a compatible stroller already then I don't recommend this bassinet as a standalone product. It has no handle, no strap system, and it's pricier than other comparable models.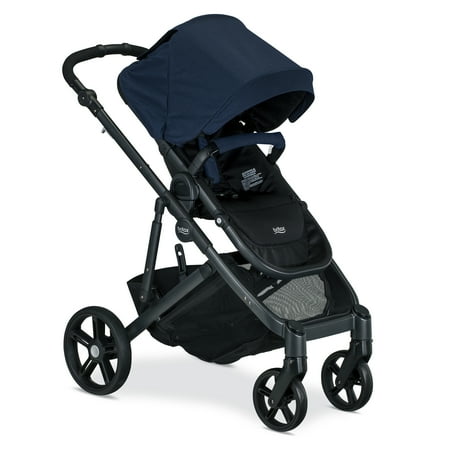 Walmart.com
out of stock
as of September 24, 2023 5:35 pm
Amazon.com
Specs
The Britax Bassinet is fairly lightweight, at a mere 8.5 pounds, roughly.  The bassinet is 16 x 33 x 9.25 inches, and has a seat area of 4×12 inches.
The Britax bassinet comes in one color, which is black. This is no doubt to make sure it blends in with compatible strollers from B-Ready.
The Bassinet has a sleek, modern design, and looks very classy. The plush cushions and soft cover offer comfort that you can actually see.
General Features
Washable. The Britax Bassinet cover, Britax Bassinet insert foam and cushions are all removable. The bassinet is easy to hand wash and keep spot-free and tidy.

Handbrake. This security feature allows you to stop quickly, to protect you and your baby. Avoid obstacles, cars, and the like.

Instant clip-on Britax Bassinet adapter. The click and go connectors on this bassinet and the click and go receivers on compatible strollers by B-ready make installation super easy.

Ventilation windows to either side of the canopy. This helps keep the air filtered and fresh, so it does not become muggy.

Also serves as a bassinet for sleep. Simply acquire the Britax Bassinet B Lively stand accordingly.
Unique Features
A pivoting canopy. Specifically, this canopy rotates up to nearly 180 degrees. This will allow your little one to really take in the sights.
Stroller Compatibility 
The Britax Bassinet officially pairs with B-Ready G2 and G3 Strollers (manufactured after March 2016). There are adapters available for other stroller types if necessary. Customers have also been happy to find that the Britax Bassinet works with the B-Agile Stroller as well, typically.
Compare the Britax Bassinet to the Bassinet by Uppababy
The Uppababy is similar to the Britax B-Ready. However, there are a few key differences that make the Britax B-Ready the clear winner, ultimately.
First off, at $169, the Britax B-ready is considerably more cost-effective. The Uppababy is $200, typically. The Uppababy Bassinet has a sunshade, which the Britax Bassinet does not have. Still, is this worth $30+ more?  
Additionally, the Uppababy requires some more assembly than the Britax. The Britax Bassinet is more affordable and seems to have a greater focus on convenience. The materials used also appear to be of higher quality.
out of stock
as of September 24, 2023 5:35 pm
Safety Ratings
This bassinet includes a handbrake, for quick stops. This is good as far as safety goes. The bassinet is sturdy, durable, and will keep the baby nice and cozy. 
There does not appear to be an official strap system. However, the design of the bassinet is already pretty secure, with its zip-up capability. So, if you are on a bumpy path, maybe zip baby in more to counteract this.
Installation and Removal
To install and use the Britax Bassinet for stroller, simply clip it onto a compatible stroller by B-Ready. This is done through the use of click and go connectors on the bassinet, and click and go receivers on the stroller by B-Ready. Align the parts, and push down until the bassinet locks into place. 
Pull the handle upwards to make sure it is secure, and you are all set for your walk with baby. To remove the bassinet, just press the release buttons to either side. Installation and removal are both quick and easy.
Warranty
From the date of purchase, the Britax Bassinet has a 1-year warranty. This covers the standard things, like defective materials or workmanship, and not wear and tear that happens naturally.
Cleaning
The fabric, cushion, and cover on the Britax Bassinet are all removable. These should not be washed in a machine, as the materials are delicate. Instead, hand wash with mild soap, and line dry. All other parts of the Britax Bassinet may be spot-cleaned accordingly.
Customer Reviews
Overall, this bassinet has been received very positively. Parents love the pivoting canopy especially. Compared to your standard, strapped-in bassinet, the freedom of motion offered is a real luxury. Babies can roll over for fun, and adjust themselves to get a good look at mommy and daddy, or the scenery.
Though the canopy comes in only one color, black, there have been few customer complaints about this. Rather, it has been stated that the black color allows the Britax Bassinet and B-Ready Stroller -which is also black- to combine seamlessly.
Not only this, but on the black background, dust and other stains from your little adventures will not show up easily. For the ones that do, just spot-clean them away.
The clips, of course, are considered nice and handy.
The main complaint with regards to the Britax bassinet is that it lacks handles. Parents feel it would be more convenient if it has these. This is fair! 
The stroller handles having to be bent out of the way seems a bit unnecessary. This leads us to the second biggest complaint of customers: the stroller handles must be bent prior to both installation and removal, which is a bit tricky.
Finally, while parents like their baby to be able to wiggle and stretch, the lack of restraints of any kind could be a worry.
Parents most appreciate the child's mobility, the pivoting canopy, and the comfortable cushions inside. Many agree that the Britax bassinet provides an exceptional experience for baby. 
What We Like 
Pivoting canopy. This makes for great versatility.

The black color hides dirt and stains effectively. Additionally, the bassinet coordinates with B-Ready and B-Agile strollers pretty much perfectly.

User-friendly clips. The connector and receiver clips for this bassinet can be utilized quite simply.

Comfy. Soft material and nice cushions are super-cozy for baby.
What We Don't Like 
No official strap system, but there is zip-up ability.

To use this bassinet, you must fold the back of the stroller completely. Some find this to be a bit of a hassle.

No handles. Clearly, handles are fairly useful. Without these, maneuvering the bassinet requires a bit more care.

Pricier than some -but arguably worth the value.
Frequently Asked Questions 
Can baby sleep in stroller bassinet at night?
Yes. In fact, this is what bassinets were made for. Newborns should be kept near their parents, yet should not sleep in bed with them, ideally. The solution is a small bed for baby. All the better if it is mobile.
Do you need a bassinet for a newborn?
Yes. Bassinets are recommended for newborns strongly. They allow you to keep baby near during the night, without risk of injury.
Is a car seat or bassinet better for newborn?
Bassinets offer babies more comfort than car seats, typically. They also tend to be more flexible. This goes especially for high-quality bassinets like this one.
As you can see, the Britax Bassinet is pretty extraordinary. Not only will it serve as a nice basic bassinet, so baby can sleep at your bedside, it connects to a stroller quite easily. The bassinet has a classy appearance and a strong focus on comfort and versatility. You may be interested in our Britax vs Graco comparison.