I've been disappointed by Chicco products in the past, but after testing the Chicco Nexfit, I think my mind has been changed. 
I was impressed by the comfort level of this convertible car seat. My child seemed very comfortable when in it. It was pretty easy to install using the LockSure for the belt path. This kept the seat belt snugly in place. My only issue was that the seat is larger and wider than other car seats. 
There are 9 different recline positions in the car seat to ensure optimal comfort. If there's a spill in the car seat, you can easily remove the seat pad and toss it in the washing machine. This is a feature I really like. It's convenient for those who may not have the time to hand wash the cover. 
Another feature that I liked was the non-rethreading harness with padding. Many car seats require you to remove the straps and put them through different holes, but this one doesn't. It saves time, energy, and frustration. The dishwasher-safe cup holder is a nice added accessory as well. 
I recommend this convertible car seat, but only if your vehicle is large enough to accommodate it. It's probably not best for small cars with multiple car seats.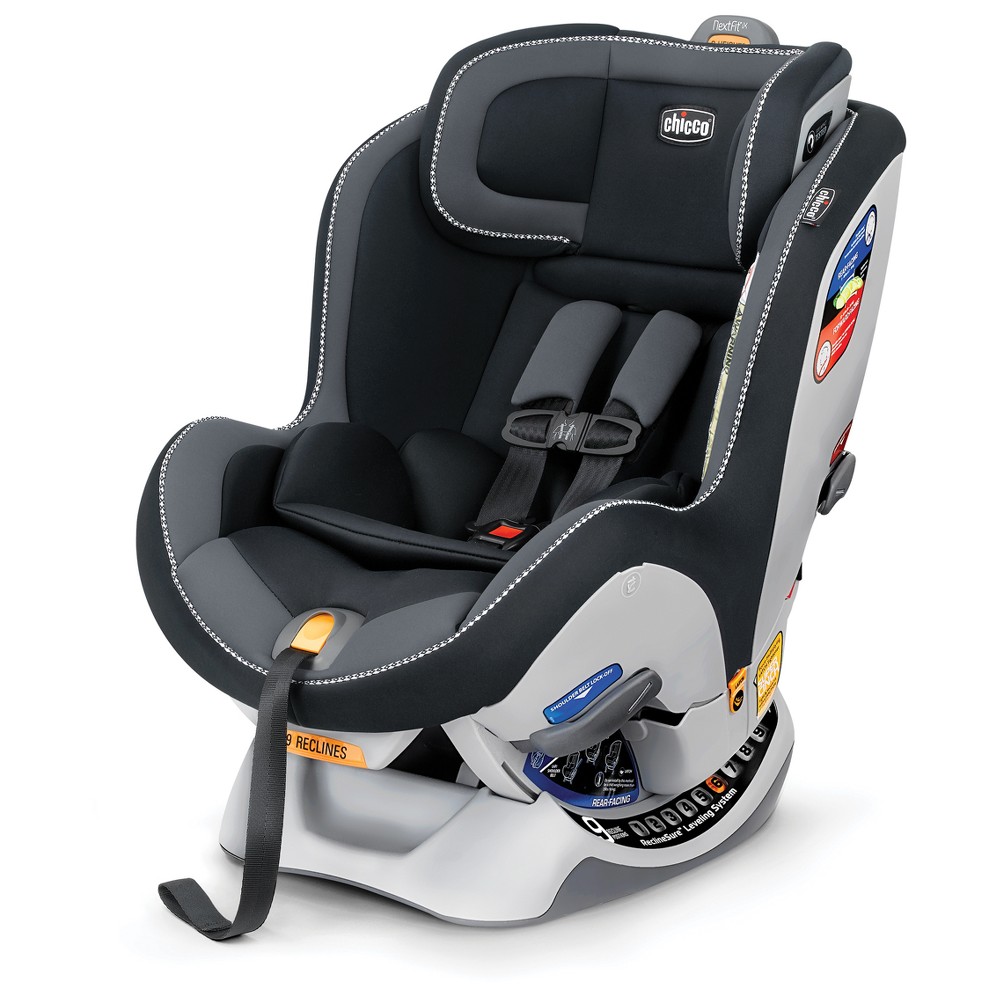 Target.com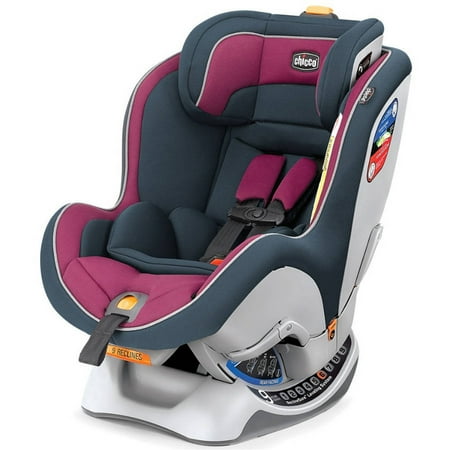 Walmart.com
out of stock
as of September 30, 2023 8:04 am
These are the key features available on all three NextFit options.
Nine different recline positions

SuperCinch force-multiplying tightener

LockSure belt path lock

DuoGuard side-impact protection

Dishwasher-safe cup holder

Steel reinforced frame

Non-rethreading harness with padding

Washable seat pad
What We Like 
Super easy to install

The seat is sturdy and durable

Fabric is machine-washable

Comes in four different color options

The cup holder is dishwasher safe

Non-rethreading harness
What We Didn't Like 
Larger and wider than other convertible seats
Chicco NextFit Sport Convertible Car Seat, Black
out of stock
as of September 30, 2023 8:04 am
SuperCinch: SuperCinch is Chicco's LATCH tightener. It uses force-multiplying technology to make getting a secure fit safe and easy.
DuoGuard: DuoGuard is a double-layer of side-impact protection. The layers consist of a deep rigid shell and EPS energy-absorbing foam. The shell is also reinforced with a steel frame.
LockSure: LockSure is used when installing via belt path. It helps keep the seatbelt in place to ensure a safe and secure fit for your child's seat.
ReclineSure: ReclineSure is Chicco's recline system. It comes with nine different positions to ensure the safest and most comfortable fit for your baby.
RideRight: This is the bubble level indicator to make sure you're reclining your infant within safe angles.
Installing The Chicco NextFit
Because the NextFit car seats are convertible, they can be installed both rear and forward-facing. There are also different ways to install the seat depending on which way you decide to place it.
Whether you decide to use the belt path or LATCH system, you're going to want to start by choosing the right recline for your baby when rear-facing. The seat has hash marks that are helpful indicators in what is a good recline position.
The younger your baby is, the more they should be reclined. You can adjust the recline position by squeezing the lever found on the front of the car seat.
Installing Via LATCH Installation
Find the correct recline for the desired position.

Connect the lower anchors to the designated spots. You can find them where your cars backrest and seat cushion meet in the back seat. Push the anchors until you hear a clicking sound.

Pull on the seat to make sure it's locked in.

Recline the back seat a little to help with the rest of the installation.

Make sure anchors aren't under the seat. The LATCH anchors should be clear and out of the way to ensure a secure fit.

Pull the "pull first" strap to tighten the lower anchors as much as you can.

Pull the "pull second" strap the same way. Make sure to follow steps 6 and 7 accordingly to secure the seat properly.

Sit the back seat upright again and check that the car seat is tightly secured. It's tight if the seat doesn't move more than an inch in any direction.

To uninstall, simply push the red button on the LATCH anchors to release and then loosen the belts so they're ready for the next installation.
We would like to note that the LATCH system should only be used up until the child and the car seat's weight are a combined 65 pounds. While you can use either LATCH or belt path for installation, we recommend using LATCH if possible.
LATCH makes it so much easier for you to know if your child is sitting securely. Many parents think they've installed their child's seat correctly but in many cases, they're wrong.
Installing Via Belt Path
To install using the belt path, unsnap the cover to reveal the belt path for the car seat.

Recline the car seat to your desired position.

Open the lock off located closest to the seat belt you're using for installation.

Take the seat belt and feed it through the correct belt path. There will be separate belt paths for rear-facing and forward-facing.

Buckle the seatbelt.

Take the shoulder belt in your hand as close to the buckle point as possible and pull it towards you. This will make sure you're tightening the belt as much as possible. Make sure there is as little seat belt slack as possible to ensure a secure fit.

Wiggle the seat side to side as you pull. This will help further with getting a tighter fit.

While still holding the belt, take your other hand and slowly release the tension to the outer part of the shoulder belt.

Lock the belt lock-off again to keep the belt in place.

Check for a secure fit. Make sure the seat doesn't move more than an inch in any direction.
Frequently Asked Questions
Q: Which NextFit seat is the best?
A: There really isn't one seat that's better than the other. Honestly, it depends on what you're looking for. Keep in mind that the NextFit Sport won't accommodate your child until they reach 12 pounds. If you're planning to bypass the infant carrier and go straight to convertible, you'll want to choose one of the other two options. Keeping in mind your price range is important as well considering all three seats are priced differently.
Do I have to use LATCH when installing?
While LATCH isn't required for installing these car seats, it's the generally more accepted option. However, some cars aren't equipped with LATCH technology. If your vehicle was manufactured after late 2002, you should have LATCH technology in your car.
If you prefer, installing via belt path is completely safe as long as you make sure to install it correctly. There are plenty of how-to videos out there that will give you step-by-step instructions. You can also see above where we explain how to install the NextFit via belt path.
Do I need to use the top tether too?
The top tether should always be used whether you choose to install via the LATCH system or belt path. All cars should come with a top anchor to attach the tether to. They can be found on the back seat's shelf, on the ceiling, behind the headrest, or even the floor.
How can I tell if the car seat is installed tightly enough?
The car seat is tight enough when you try wiggling the seat and it moves less than one inch in any direction or is completely stationary when you try.
When should I forward-face my baby?
Rear-facing is the safest position for children under two. Car seats usually allow forward-facing starting at 22 pounds, but it's recommended to keep your child rear-facing as long as possible. Many manufacturers allow rear-facing until up to 40 pounds to encourage extended rear-facing.
If I get into an accident, do I need to replace this seat?
That depends. In most cases, yes. You don't know the damage the accident may have done to the car seat. However, if the accident was minor, as in you were able to drive away without any injuries and the side the car seat was on wasn't hit, your seat is more than likely okay.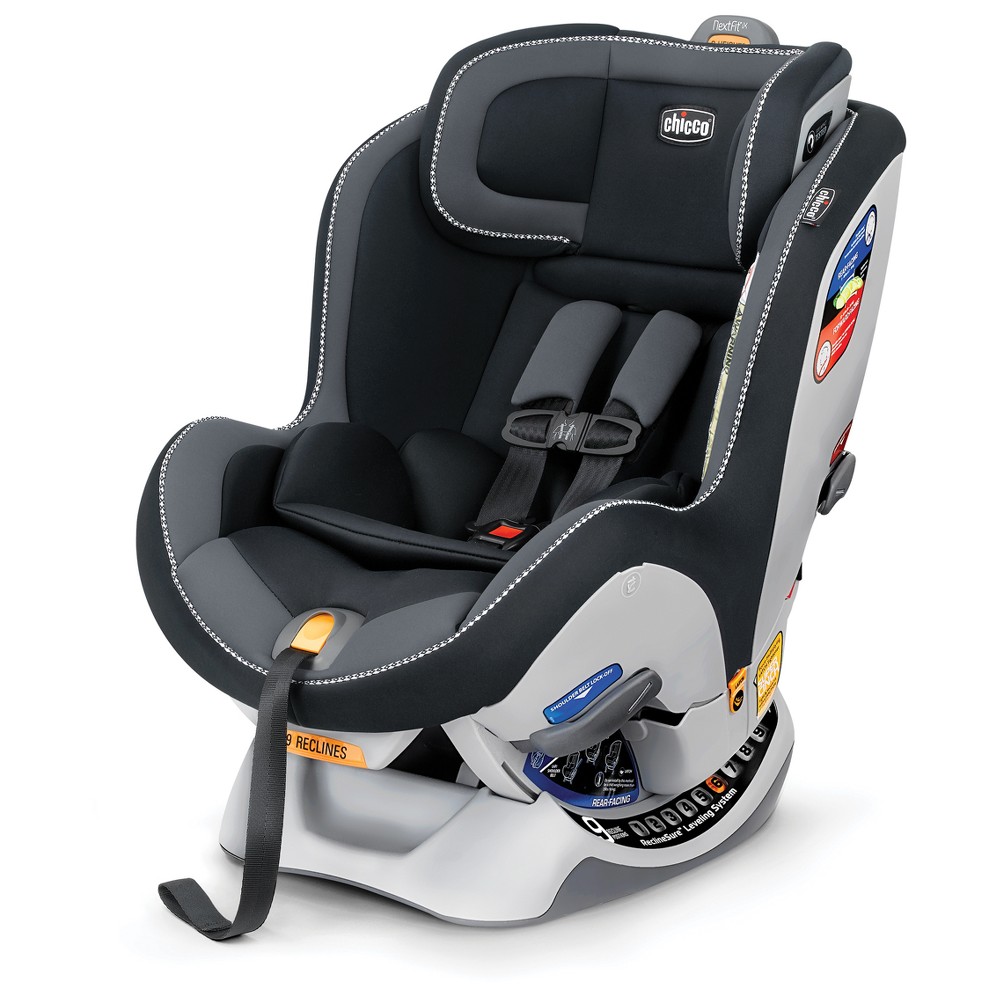 Target.com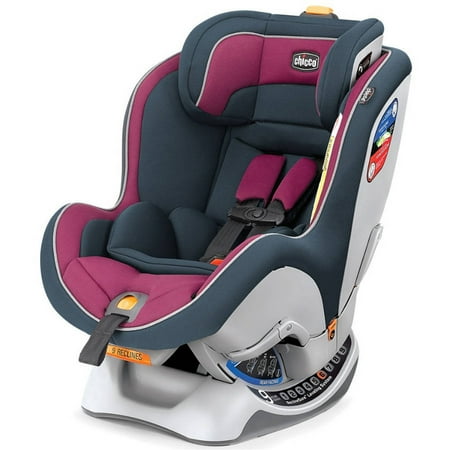 Walmart.com
out of stock
as of September 30, 2023 8:04 am
Additional Consideration 
And that brings us to the car seat of the hour, the Chicco NextFit convertible car seat. These seats actually come in one of three style options and we'll discuss those further in a minute. The NextFit style comes with ReclineSure, which gives you nine different recline positions for the seat. This will ensure your child has the safest and most secure ride.
They also come with a force-multiplying tightener, also known as SuperCinch, which makes sure the seat is secure while using the LATCH system. If you plan to use the belt paths to install the seat, these also come with LockSure technology. LockSure helps keep the vehicle's seatbelt locked and in place while the seat is installed.
Depending on which style you choose, you'll get different convenience accessories and added comfort features. However, all three will accommodate your child up to 65 pounds so there isn't a major difference between them.
The NextFit Sport, however, isn't suitable for newborns as it doesn't come with the necessary infant insert. The sport will hold your child starting at 12 pounds. Besides this downside, the only other major difference between the three is the price and that the NextFit Zip Air comes with a breathable 3D mesh headrest while the other two seats do not.
You'll spend the least on the NextFit Sport and the most on the NextFit Zip Air. This makes sense considering the Sport comes with fewer features and the Zip Air comes with a hi-tech comfort feature.
Importance Of Convertible Car Seats.
Convertible car seats, in general, come with several benefits for your child ranging from safety to comfort. They're also required for traveling in the car with your toddler or small child so if you're a fan of following the law, you'll need one.
Being buckled in a properly fitted car seat will reduce the likelihood of injury by up to 82 percent. While your great aunt Susan might hit you with the "we didn't have those in my day and I survived" line, it's no debate the safety convertible car seats provide.
Not to mention they're constantly evolving to better accommodate both you and your child. Manufacturers are starting to make "all-in-one" seats that work for your child from birth to booster. These seats are the ultimate convenience. While they may seem expensive, they end up saving you money in the long run because you're only spending money on one seat rather than three.
Convertible Car Seats Benefits Vs. All-in-One Seats.
All-in-one seats are great and all, but some may prefer regular convertible seats over this option and that's okay. Convertible car seats come with plenty of benefits over all-in-one's that you may not initially think about.
They Don't Require Full Commitment.
If you don't want to commit to one car seat for up to ten years, convertible car seats are going to be better for you. All-in-one seats come with a belt-positioning or high-back booster mode so they'll accommodate your child up to at least 100 pounds. This means you'll potentially have the same seat until your child reaches around third grade.
This can be convenient, but something to think about in this respect is if you get in an accident. If it's a moderate-to-severe accident, you're going to need to replace the seat. This kind of throws convenience out the window because you'll have to spend a good chunk of money replacing it.
Convertible Car Seat Size.
Regular convertible car seats also tend to be smaller than their all-in-one counterparts. This can come in handy for parents with smaller cars and families with multiple children. If you purchase a seat only to find that it doesn't fit right in your car, it's going to cause unnecessary stress with having to return and purchase a different seat.
Less Money Up Front.
Cost is another factor that compares the two options. While all-in-one seats save money in the long run, you may be looking to save money right up front. In this case, convertible car seats are a better option. As convenient as one-and-done shopping is, we know that sometimes spending more up front isn't always an option for people.
Time To Ride In Style!
We really appreciate how Chicco not only places an importance on the safety of their seats but the style as well. Not everyone likes gaudy designs for their baby gear and Chicco gets that.
They use a simple design for their NextFit car seats with sensible color options. The colors are nice for having a pop of color without hurting your eyeballs. We hope you enjoyed our chicco keyfit review Let us know. We want to hear from you in the comments!