Your trust in Maxi-Cosi starts on the way home from the hospital. As the years go by, your child is going to grow out of their car seat and need a bigger one once they are a toddler and a booster seat later.
It's not uncommon for parents to invest in a car seat that can be converted to accommodate the growth of their children.
After extensive testing of numerous Maxi Cosi seats, the best Maxi-Cosi car seat is the Magellan Xp Max All-In-One Convertible Car Seat because it can accommodate children up from infancy to 10-years-old. The weight limit is 5-120 pounds and it can be rear-facing, forward-facing, and a belt-positioning booster seat. 
Additionally, this all-in-one car seat means you never have to buy another one as long as your child is still using it. This car seat has a one-handed recline and easy-adjust system as well as a hideaway seat belt harness for booster use.
It's easy to install and has a 14-position headrest adjustment. It's not budget-friendly, but well worth the price. Make the investment once and you're done! In this guide, we will look at the Maxi Cosi Car Seats based on weight, durability, price, and other top factors.
Comparing The Top Maxi Cosi Car Seats (by Type)
| Name | Weight Limit | Height Limit | Mode |
| --- | --- | --- | --- |
| Maxi-Cosi Mico Max Plus Car Seat | 4-30 lbs. | 32" | Rear-Facing |
| Maxi-Cosi Mico Max 30 Car Seat | 4-30 lbs. | 32" | Rear-Facing |
| Maxi-Cosi Mico 30 Car Seat | 5-30 lbs. | 32" | Rear-Facing |
| Maxi-Cosi Mico AP Car Seat | 5-22 lbs. | 29" | Rear-Facing |
| Magellan All-In-One Convertible Seat | 5-120 lbs. | 62" | Both Rear-Facing/Forward-Facing |
| Pria 85 Max Convertible Seat | 5-85 lbs. | 52" | Both Rear-Facing/Forward-Facing |
| Pria 85 Convertible Seat | 14-85 lbs. | 52" | Both Rear-Facing/Forward-Facing |
| Vello 65 Convertible Seat | 9-65 lbs. | 52" | Both Rear-Facing/Forward-Facing |
| | | | |
As far as infant car seats go, Mico Max seat is a very convenient option worth checking out. It can safely carry your child up to 30 pounds rear-facing and has an easy-to-carry design.
This seat comes equipped with the Air Protect technology to help keep your little babe snug, safe, and comfortable even when they're firstborn. It also exceeds all federal standards and comes with an improved anti-rotation stability leg.
Extra Support 
This will help give extra support to the head and neck in the case of an accident. The base it comes with is equipped with the LATCH system and stays in your car. It's also adjustable to fit any size car too.
The seat's fabric is self-wicking, which will help keep the baby cool on hot days and cozy on cooler ones. To add to comfort, the car seat comes with extra cushioning and a removable insert for when the baby grows.
We like this one because it's really lightweight to carry and the contoured, soft-grip handle makes carrying baby easy and comfortable. The sunshade can also unzip for added sun protection while outside. To top it all off, this seat is compatible with over 50 different stroller systems too. And yes, it is machine-washable.
Pros
Unzippable sunshade

Self-wicking fabric

Easy to carry

Compatible with 50+ stroller systems
Cons
Canopy material is thin

Head support is iffy when in a stroller
If safety is a big concern of yours, as it should be, this is a good one. The Mico Max 30 comes with several different safety features to help put your mind at ease.
It comes equipped with the Maxi-Cosi Air Protect side impact protection. On top of that, it also features an anti-rebound bar, and a reversible head insert to not only keep baby safe in an accident but comfortable during car rides too.
out of stock
as of September 29, 2023 3:15 pm
Amazon.com
Compatible with Most Travel Systems
Pros
Comes with a one-year warranty

Machine-washable pad

Contoured handle

Anti-rebound bar

Fits most stroller systems
Cons
Base is bulky

Canopy is light
If you're looking for an easy to carry option, the Mico 30 is a good one to consider. The handle is ergonomic, which is a lifesaver for your hands and arms.
It can easily be transferred from the "stay in the car" base to your Maxi-Cosi or another premium stroller. The fabric is self-wicking, and the seat pad is easily removable without any harness rethreading needed. It's machine-washable and dryer safe.
out of stock
as of September 29, 2023 3:15 pm
Amazon.com
Exclusive Cozi Dozi Head Insert
The fabric is also extremely comfortable for baby and comes with padded harness covers as well as their Cozi Dozi head insert to add to the comfortability of the seat.
The sun canopy is multi-positionable and has a flip-out visor to protect your baby's eyes from the sun and other bright lights. The seat comes with an adjustable base to properly fit your car and uses the LATCH system to lock your baby's car seat in place.
Pros
Adjustable base

Canopy is multi-positionable

Can fit in several strollers

Ergonomic handle

Self-wicking fabric
Cons
The canopy doesn't lock in place

Color may not be as pictured
Lightweight is something all parents want to hear when talking about infant car seats. This is most certainly one to check out if you need something that isn't going to kill your arms. The Mico AP can accommodate your child up to 22 pounds and up to 29 inches in height.
Mico AP is made with Air Protect technology and extra padding for comfort. The seat comes with adapters that are compatible with both Maxi-Cosi and Quinny strollers. However, most other stroller companies will send you adapters free of charge.
This infant seat comes with the canopy and flip-out visor to help shade baby from harmful sunlight and bright lights. This seat also has an 8-year lifespan so provided you don't get in any accidents, you can use this for future babies too.
Pros
8-year lifespan

Super lightweight

Comes with adapters
Cons
Not much information available

Doesn't fit with some popular stroller brands
If you've been struggling to find a practical seat for your child, you've hit the holy grail with this one. The Magellan can accommodate your child from infancy to potentially tween-hood.
This seat can hold 5-120 pounds. It comes equipped with 7-position recline, three adjustable torso height positions, and 14 headrest heights. This ensures that your child will stay comfortable whether they're a new baby or well into elementary school. The headrest is convenient because when you raise the position of it, it automatically raises the harness to match.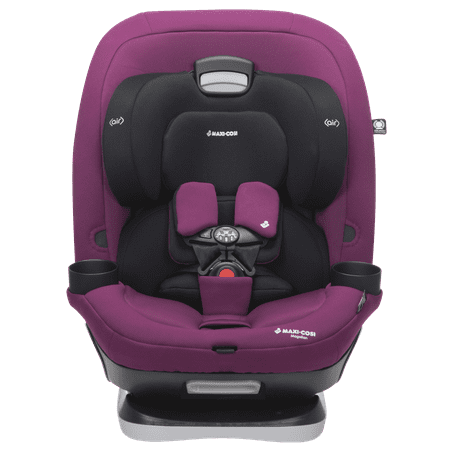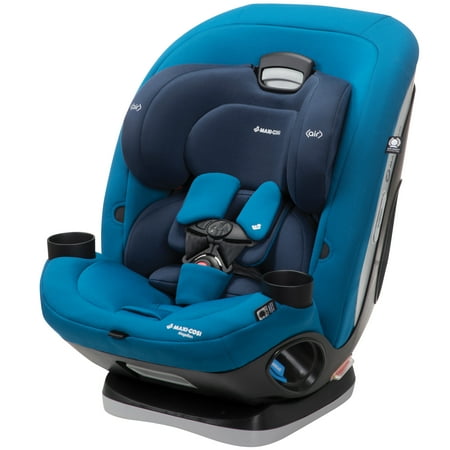 Super Easy to Adjust
This seat is great because all adjustments that need to be made can be simply done with one hand. If you're worried about safety, this seat has exceeded all federal standards and comes equipped with patented protection that is built into the headrest.
Comfort isn't an issue with this one either. It comes with a removable infant pillow system, and the seat itself has self-wicking fabrics.
This will help keep your child comfy and dry during the summer and cozy during the cooler months. The fabric is also machine washable and dryer safe. The Magellan All-in-One comes in five different colors: Emerald Tide, Violet Caspia, Blue Opal, Midnight Slate, and Night Black.
Pros
Grows with your child

Machine-washable fabric

Self-wicking fabric

Five different color choices

Lots of safety features
Cons
A little pricey

Harness straps may twist
If you're a family that appreciates innovation, this is most definitely the car seat for you. The Pia 85 Max is equipped with the ClipQuik auto-magnetic chest clip.
The chest clip opens easily from the front side with one hand and locks on its own when slid back closed. This is great for when you're in a hurry.
Another convenience factor this seat has is its harness holders. These really help keep the car seat open, so you don't need to worry about lifting your child to pull the harness out.
This Pria seat can accommodate your rear-facing child up to 40 pounds and forward-facing up to 85 pounds. This car seat comes with infant insert cushions that are easily removable. Therefore, the cushions don't get in the way as your child gets older. The seat pad is removable and machine-washable as well.
Pros
Available in 7 colors

Easy to get in and out of

Quick to strap your child in

Machine-washable
Cons
Large, bulky seat

Hard to adjust harness while rear-facing
This seat is a 2-in-1 convertible car seat that will grow with your child until they reach 85 pounds. Its rear-facing abilities can be used up until your child reaches 40 pounds and forward-facing up until 85 pounds.
Not only does it have side impact protection, but it also has Maxi-Cosi's patented Air Protect head cushion. These two safety features pair together to ensure optimal safety for your child.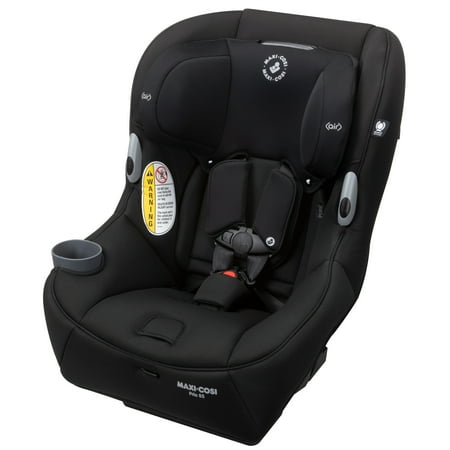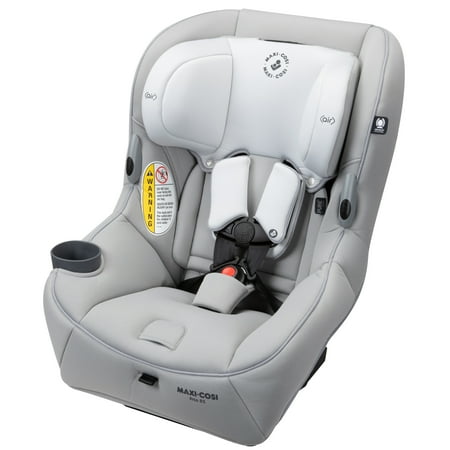 The car seat pad and harness covers are removable and machine-washable with the snap of a button.
This is convenient because you don't need to worry about uninstalling the seat to clean it. The Pria 85 is nice because the headrest and harness are very easy to adjust.  So convenient that you should be able to do so with just one hand.
Extra Amenities
It also comes with a cup holder to store a drink or some snacks for longer car rides. Since we're on extra amenities, the Pria 85 actually comes with harness holders too.
The holders help make getting in and out of the seat much less of a hassle by keeping the harness out of the way. It also reclines in both the rear and forward-facing position for optimal comfort.
Pros
Offers optimal safety

Easy to get in and out of

Can fit on airplanes

Machine-washable
Cons
Straps may be hard to adjust after awhile

Awkward fit for taller, older kids
Stroller systems are really convenient because not only do they come with the main things you need to transport the baby, but you save money by doing it.
Not to mention how much easier it is to get baby in and out of the car without worrying about taking them out of their car seat.
The Zelia travel system comes with the Mico 30 infant seat, the compatible base, and a stroller that uses LATCH technology for easy clicking.
This travel system is very versatile because you can attach the car seat either facing you or facing outward. This is convenient for when the baby gets a little older and a little more curious.
Five Different Modes of Use
We like this travel system because there are five different modes you can use it: Parent-facing carriage, world-facing carriage, car seat carrier, parent-facing stroller, or world-facing stroller.
If you choose to use the seat in the stroller, it comes with an easy recline to help keep the baby comfortable while resting. While the car seat can hold up to 30 pounds, you'll be able to use your stroller until your child reaches 50 pounds.
The stroller and car seat fabric is self-wicking and can be washed easily. We all know kids are messy, so this is good to know.
The stroller's wheels also lock, and the canopy is extendable to help shield your child from the sun as well as a large storage basket underneath. The car seat can be secured without the base if needed, which is nice for when you're in a taxi or are in a pinch.
Pros
Can be used with or without base

Stroller canopy is extendable

Stroller holds up to 50 pounds

Comes with everything needed

Fabric is self-wicking
Cons
Wheels don't have much shock absorption

Can be hard to lock the seat into the stroller
Maxi-Cosi is a brand by parents, for parents
This puts them high up on our list of favorites because it means they truly have the customer (you) in mind. They also make themselves readily available to help troubleshoot any problems.
For those of us who hate talking on the phone, they conveniently offer a text, email, or "chat with an expert" option on their website.
This is the first car seat parents will need to purchase. Infant seats face backward and can be used for approximately two years.
Sometimes it is possible to skip the infant seat and begin with a convertible seat. Unfortunately, we don't recommend this. When infants are born, they typically weigh 5-8 pounds and in some instances even less. Therefore, it is much safer and more practical to purchase an infant car seat first and later get a convertible car seat.
Buyer's Guide
You can't commit to buying a car seat without keeping certain things in mind. Besides a car seat's safety features, take note of any extra amenities they offer.
Do they come with memory foam padding? Cupholders? What about reclining capabilities?
Making a list of your must-haves will help you make sure a car seat is fulfilling all of your needs.
Comfort level
A seat is no good if your child refuses to ride in it.  We can't really blame them if the car seat is hard and doesn't offer much cushion.
Would you want to sit on nothing but a hunk of plastic while driving down a bumpy road? Neither would we.
When you're on the hunt, keep an eye out for what is used in the car seat cushion. Memory foam is a popular and comfortable option sure to impress your child.
Size
Another thing to keep in mind is the size of the car seat. If you drive a compact car, you're probably not going to want to buy a car seat that will take up half of your back seat. Not only will this be annoying to install, but it can pose comfort issues for whoever is in the car seat in front of your child.
Extra Amenities
Finally, be on the lookout for any extra amenities a particular car seat offers. Most car seats will have a cupholder, and some even have reclining abilities. Depending on what you're looking for, these extra add-ons can be good or bad.
If your back seat is narrow and there isn't much room between the seat and door, you'll want to make a note of the cupholder position. If it sticks too far out to the side, this may prevent you from being able to close the door.
Sure you could install the car seat further over, but this may cause the car seat to be loosely installed, and then you have a safety issue.
Unique Maxi Cosi Car Features
Maxi-Cosi boasts itself as the #1 brand of car seats, worldwide. They're also the first car seat brand to be introduced in Europe (source). They pride themselves on car seats that not only carry a baby as safely as possible but as comfortably as well.
Air Protect
Maxi-Cosi has patented technology called Air Protect, which they use on all of their car seats. It's built into the headrest cushion to provide the most care to your child's head and neck. This also makes a great pillow for comfort.
Cozi Dozi
Cozi Dozi is Maxi-Cosi's infant insert. This insert is reversible and helps keep baby snug and cozy while in their seat.
Made for Extended Use
As you look at Maxi-Cosi's car seats, you'll find that they are made to last with your child. This is an important feature for parents who don't want to spend money on three different car seats as their child grows.
Their Magellan seat, for example, is a convertible car seat. Most convertible car seats accommodate children until they reach 80 or so pounds. This particular car seat will grow with your child until they reach 120 pounds.

Maxi-Cosi Car Seat – Frequently Asked Questions
What strollers are Maxi-Cosi infant seats compatible with?
Maxi-Cosi infant seats are not only compatible with Maxi-Cosi strollers, but other premium brands as well. These brands include BabyJogger, Buggaboo, and Quinny among others. You will need an adapter, though.
If the car seat doesn't come with a special adapter, most stroller companies will send you adapters at no extra cost to you.
Does Maxi-Cosi follow and test their seats to federal standards?
All Maxi-Cosi car seats meet and exceed federal safety standards.
What is Air Protect?
Air Protect is Maxi-Cosi's patented side-impact protection system. It's designed to give added support to your child's head and neck while in the car. It absorbs the impact in the headrest to keep your child's head from being thrown about.
Can Maxi-Cosi car seats recline while forward-facing?
Most Maxi-Cosi car seats have the ability to slightly recline in order to match up to the contouring of your backseat.
Which Maxi-Cosi Car Seat To Choose?
Now that we've gone over the best Maxi-Cosi car seats for you, it's time to choose which one fits your child best. You may want to check our Maxi Cosi Prima comparison. 
Do you need something that will last for years?
Or maybe you're looking for a travel system to invest in before the baby arrives. Regardless of what you're looking for, Maxi-Cosi has a safe, comfortable, and practical option for you. Have you tried any of these seats before? Which one is your favorite? Let us know!