Every mom wants the best for their baby, and when it comes to your little one's safety and comfort, you want to ensure you're making the best possible choices.
Your infant's car seat is one of the most important purchases you'll make as a new parent, and it can be overwhelming and challenging to know where to start your research. But, for decades, parents like you have turned to Evenflo cars seats for their quality, safety features, and affordability. 
Evenflow has a strong reputation for safety and product innovations in the baby product world and has been in business for over 100 years. Parents can purchase Evenflo products throughout the US and Canada. 
Evenflow offers a wide variety of car seats to fit every stage of your child's growth from infancy and beyond. In addition, all of Evenflo's car seats are rollover, and side-impact tested, giving you peace of mind.
Many moms think they must start with an infant car seat, but that's not always the case. A convertible seat can grow with your child and, therefore, be a longer-lasting solution. However, the downside is that convertible seats tend to be heavier and bulkier than infant car seats. 
Infant seats can offer infant-specific safety features and fit nicely into vehicles with limited space. Which seat is the right choice for you and your little one comes down to your preference, and Evenflo has you covered with their incredible line of car seat options. 
Based on our extensive research, our Top choice is the Evenflo Symphony Elite All-In-One Convertible car seat. This car seat will grow with your child until they're ready for a booster seat. Parents also love the safety features, versatility, and washable machine fabric, making this car seat a top-rated consumer pick.
After testing numerous Evenflo baby seats and consulting moms like you, we narrowed it down below the top ten best Evenflo infant car seats. All of these car seat options are appropriate for smaller infants 5 pounds and up. 
Best Evenflo Infant Car Seats
Our first choice is the top-tier Symphony Elite. Designed with usability and convenience in mind, the Symphony is a popular choice for families who prioritize overall quality. Price-wise, it's not the most affordable product on the list, but its features are worth the cost.  
This model's highlight is its SureLatch technology. It takes the push and pulls out of installation and removal. A life-saver especially for multi-car families, the Symphony Elite brags a 60 second installation time that takes all the drama and sweat out of installation and removal.
Besides all the bells and whistles of expandable cup holders and washable pads, this car seat has an impressive range of use: it serves infants from 5-40 lbs all the way up to toddlers and children weighing as much as 110 lbs.  In short, it's easy to see why this versatile, long-term use car seat is our number one pick for an infant car seat that will grow along with your child.
$174.99
in stock
1 new from $174.99
as of September 30, 2023 9:20 pm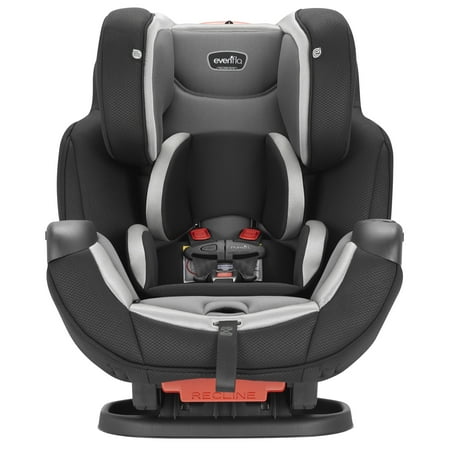 What We Like
Features SureLatch technology

Good for Infants from 5-40lbs
Children weight up to 110lbs
Very versatile
Long-Term Use Car Seat
What We dislike
As the lightest model on the list, the Evenflo Nurture DLX is an excellent portable car seat for families who travel often. Using a separate stay-in-car base, it can easily be transferred from home to vehicle.
Everything about this product is designed with convenience in mind. It includes easy-off machine washable pads as well as a pivoting canopy. Though this is definitely a model with glitzy additional features, it is one of the best values for the money.
out of stock
as of September 30, 2023 9:20 pm
Though it ranks high in our guide as an excellent budget option for those who find luxury car seats a bit superfluous, it does have a couple of cons. One of which is that the base is not included and it tends to shift slightly with car movement. However, for the price, this one's a steal.
What We Like
Good Budget Option
Very Convenient
One of the Lightest Models
Has Many Extra Features
Excellent Portable Car Seat
Has Machine-Washable Pads
What We DisLike
Tends to Shift Slightly with Car Movement
The Evenflo Stratos doesn't have the muscle or features of some of its competitors, nor is it as affordable as models like the Nurture. However, it is an overall balanced model that provides safety and minimal features.
One of the highlights of the Stratos 65 Convertible Car Seat is the seats built-in ventilation system. This superior ventilation system keeps an airflow to the child's body, making it more comfortable and breathable.
The seat is rear-facing for infants up to 40 lbs, but can also switch to a front-facing car seat for children up to 65 lbs. While it can't boast the same ten years of potential use that the EveryStage could, it will be used for much longer than many of its competitors. The model also includes several standard features such as buckle pockets and a 5-position adjustable headrest.  It definitely doesn't qualify as a luxury item, but it's also a step out of the "budget" realm.
out of stock
as of September 30, 2023 9:20 pm
What We Like
Build-in Ventilation System
Very Comfortable
Provides Safety
Rear-facing for babies up to 40 pounds
Front-facing for children up to 65 pounds
5-position adjustable headrest
What We Dislike
Does not have a lot of extra features
Does not grow with your child
Not affordable
What sets the EveryStage DLX apart from its competitors is its EasyClick Latch, which aims to make your life easier. Using an innovative ratcheting system, the EasyClick Latch allows for tighter, more secure placement that's a breeze to install.
Like its counterpart the EveryStage LX, the DLX model is a great long-term investment as it can grow with and accommodate a child all the way to 120 lbs. This makes both EveryStage models an excellent value for the money, as they're potentially the only car seat you'll need to buy for your child.
The downside of the DLX is that while it's easy to install, it's a bit harder to actually strap your baby in. The chest connectors are a bit hard to wrangle, and their unideal design makes it so you have to jostle and maneuver around your child to get the straps out.
The DLX is a bit heavier than the LX and slightly more burdensome to transport. However, it's still an overall convenient and wonderfully safe car seat model.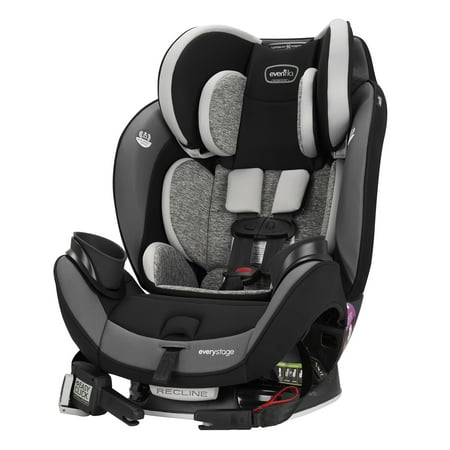 out of stock
as of September 30, 2023 9:20 pm
What We Like
Quick Install with EasyClick Latch 

Safe & Secure
Grows with your Child up to 120lbs
Budget-Friendly
What We Dislike
More Burdensome to Transport

Heavier than the LX Model
Harder to Strap Your Child In
This model, the Evenflo LiteMax 35 Platinum car seat, is one designed with comfort in mind. Equipped with temperature-regulating fabric, ergonomic infant padding, and four positions from upright to reclining, it's not only comfortable for your infant but safe as well.
One of its most useful features includes a full-cover canopy that zips to provide full coverage against sun, rain, wind and whatever else Mother Nature has to throw down at your little one. While many car seat canopies prove more of a nuisance than a help, the LiteMax's cover is sensibly designed.

Like its non-platinum counterpart, this model is also moderately lightweight and easy to carry. What sets it apart from the standard LiteMax 35 is the addition of its Outlast(R) Performance Fabric which regulates the baby's body temperature in both hot and cold conditions.
From its ergonomic handles to its washable pads, the LiteMax 35 Platinum is definitely a car seat aimed at making your life a little easier. It can also fit in a shopping cart and comes with a base. Overall, it's a solid middle-of-the-line model.
$141.48
$155.98
in stock
1 new from $141.48
as of September 30, 2023 9:20 pm
What We Like
Features Sure Safe Latch
Removable Head Pillow
Mashine-Washable Cover
Comes with Temperature Regulating Fabric
Very Lightweight & Comfortable
Easy to Install
What We Dislike
Base is Too Long
Not Compatible with Small Cars
This product is named SafeMax for a reason. With its rebound bar design, it's specially designed to absorb the impact of potential crashes (if there ever were one, heaven forbid). As evidence of Evenflo's continued eye on safety, the SafeMax was also the first car seat to be rollover-tested. It offers premium safety but at a cost.
This car seat is far from the most affordable option on the list. However, if you're looking for one of the safest, most thoroughly tested products on the market, then the SafeMax might be the winner. Though it doesn't have the same potential for long-term use as competitors like the EveryStage models, it's just about as heavy.
$319.99
in stock
1 new from $319.99
8 used from $277.81
as of September 30, 2023 9:20 pm
The seat accommodates children ranging from 4 lbs to 35 lbs and includes a machine-washable seat pad for convenience. The product's only con is that it's not exactly easy to adjust, as it has shorter harness straps. If safety is the priority for your family though, you might not mind.
What We Like
1st Car Seat to Be Rollover Tested
Full Coverage Canopy Protects from Sun/Rain
Safe Zone Base
Features Advanced LATCH
One of the Safest Options
Pad is Machine-Washable
What We Dislike
The Handle is Difficult to Move
Very Pricy
Heavy
Harness Straps are Difficult to Adjust
Not Intended to Be Capable with Most Strollers
When it comes down to their specs, the LiteMax 35 and the LiteMax Platinum are incredibly similar—almost indistinguishable apart from a few key factors. If the LiteMax 35 is an inferior model, it's only by a very slight amount

This model is easy to carry with its ergonomic, overarching handle. It's moderately lightweight and includes buckle pockets that help prevent burns. The car seat fabric is breathable but not nearly as efficient as the Platinum version Outlast(R) Performance Fabric.

The major complaint with this model is that the canopy which is intended to shield and protect your child is more a nuisance than a help. Additionally, the car seat lacks a cutout that allows you to use it with a shopping cart. For these reasons, it falls lower on the list than its Evenflo's Platinum version.
$125.49
$139.99
in stock
1 new from $125.49
as of September 30, 2023 9:20 pm
What We Like
Meets or Exceeds All Federal Safety Standards
Easy to Install
Breathable Car Seat Material
Easy to Carry With Its Ergonomic Handle
Lightweight & Comfortable
Easy to Adjust Harness
Removable Head Pillow
Pad is Machine-Washable
What We Dislike
Can't Be Used In a Shopping Cart
Canopy is Hard to Adjust
The Evenflo Nurture car seat is a straightforward, drama-free product with no bells, whistles or complications. It doesn't have the versatility of other products or the potential for long-term use like the EveryStage DLX or Every stage LX, but it's affordable enough that you may not mind.
The model includes a standard canopy and a semi-padded carrying handle. As one of the lightest products on the list, this is a great budget option for families who travel frequently. The model includes a base, but the car seat itself can be used with or without it.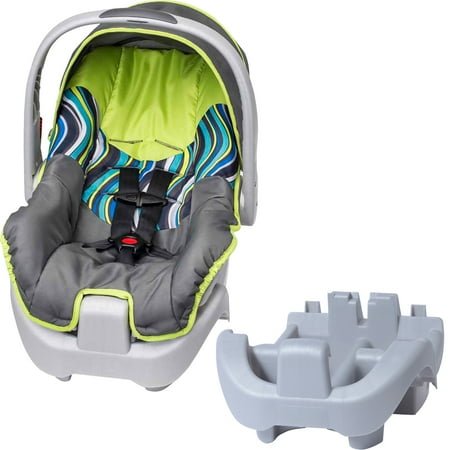 out of stock
as of September 30, 2023 9:20 pm
This makes it ideal for airplanes, rental vehicles, and taxis alike.  Overall, this model is only slightly cheaper than the higher-tier DLX model, so although it is a solid budget option it's probably worth it to spring for the more developed design.
What We Like
Features Superior Carry Right Handle
One of the Lightest Evenflo Car Seats
Suitable for Air Travel
Solid Budget Option
Can Be Used With or Without The Base
Large & Easily Adjusted Canopy
Comfortable & Convenient
What We Dislike
Does Not Grow With Your Child
Can Only Be Used for Kids 5-22lbs
The EveryStage LX is designed with long term use in mind. Boasting ten years of potential use, this car seat can accommodate children all the way up to 120 lbs. Marketed as "the only seat you'll ever need," the EveryStage  LX is the more affordable, less-flashy little brother of Evenflo's EveryStage DLX.
The LX lacks the DLX's high-quality EasyClick system in favor of a standard-click latch. It takes significantly more time to install and has no ratchet system, but is slightly more affordable.
out of stock
as of September 30, 2023 9:20 pm
The seat can be installed forwards or backward but isn't nearly as tight or secure as the DLX. Overall, it has a simple, straightforward design and surprisingly rugged durability, but a clearly lesser product to the superior DLX. 
What We Like
Grows with your Child
For Children up to 120lbs
More Affordable than Evenflo EveryStage DLX
Allows Kids to Ride Rear-Facing Beyond The Age of 2 Years
Can Be Easily Adjusted to Multiple Positions
What We Dislike
Lacks the DLX's High-Quality Easy Click System

Has Fewer Features than Evenflo EveryStage DLX
It Takes More Time to Install
The Tribute LX is the second lightest car seat on the list and also one of the most affordable. With budget car seats, safety is, of course, a concern. You might not require all the bells and whistles of models like the Symphony Elite, but you still want a product that ensures your infant's safety.
What is impressive about the Tribute LX is that it's slashed costs without compromising safety. It meets and exceeds all federal safety standards and also has a latch system which makes it easy to switch between cars.

Unfortunately, this product's downfall is that it lacks the possibility for long-term use that several of its competitors have. Because it can only accommodate infants from 5 lbs up to toddlers of 40 lbs, your child is going to outgrow it pretty quickly. If you don't mind that, the Tribute LX Convertible makes for a safe and excellent budget car seat option.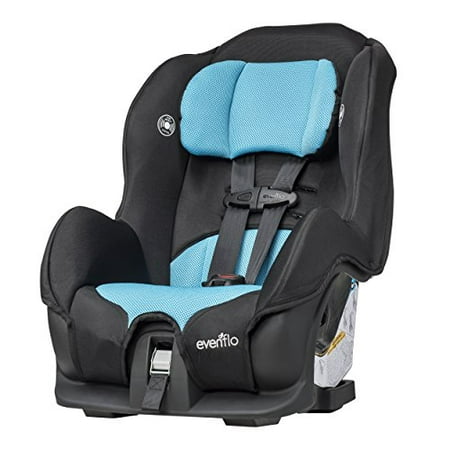 $119.48
in stock
1 new from $119.48
as of September 30, 2023 9:20 pm
What We Like
One of The Lightest & More Affordable
Meets & Exceeds All Federal Safety Standards
Has Superior LATCH System
Great for Air Travel
Easy to Use & Install
What We Dislike
Only Good for Children 5-40lbs
The Straps Get Twisted Easily & Difficult to Adjust
Buyer's Guide
Based on product safety, affordability, and ease of use, we've ranked these top ten Evenflo car seats. That way, you spend less time sorting product listings and internet tabs so you can get buckled up and ready to go with your little one in no time at all.
When choosing your child's car seat, some of the most important factors are item weight, latch technology, size, compatibility, features, and weight capacity. 
Why Should Parents Choose Evenflo Car Seat?
Evenflo Car Seats are all about safety. The Company rigorously tests all Evenflo Car Seats. Not only Evenflo is well-known for being one of the safest car seats on the market, but it also strives to provide the most affordable and lightweight Evenflo Infant, Convertible & Booster Car Seats.
Evenflo's primary focus is to provide safe and affordable car seats and only then it looks at all the extra features that are important to all the parents out there.
There is a great variety of Evenflo Car Seats that are built with basic features as well as the ones that have a lot of extra superior features that the Company is well-known for.
Any Evenflo Car Seat you choose to buy, you can be sure that every one of those seats will be loved by your precious bundle of joy! Which Evenflo car seat is your favorite? Share with us in the comments below!