Whether you're taking a family trip somewhere or planning to travel, chances are you've dealt with lugging around a heavy car seat.
There are literally hundreds of car seats on the market for both toddlers and infants. Some are lighter than others and some have different characteristics than others, but which one do you choose?
The FAA website states that Child Restraint Systems (CRS) are hard-backed child safety seats that are approved by the government. CRS's are for use in both vehicles and on airplanes, but not all of them are approved for both.
Below we provided a detailed review of the best travel car seats approved by the FAA currently on the market. They have shown to exceed in the areas of safety ratings, durability, ease of use, and value.
The best travel car seat for an infant is the Graco SnugRide 35 Lite because it can be installed without the base and feels stable in most cars. Additionally, it weighs a mere 7.2 pounds and it's super budget-friendly. Another great option is the Evenflo Sonus 65 due to its comfortability, higher weight and height limit, and the ability to fit in most cars. 
Top Travel Car Seats
| Product | Weight Range | Car Seat Weight | Height Range | Removable Fabric |
| --- | --- | --- | --- | --- |
| Evenflo Sonus | 5-50 Pounds | 13 Pounds | 19"-50" | Yes |
| Cosco Scenera | 5-40 Pounds | 7 Pounds | 19"-43" | N/A |
| Chicco NextFit iX | 5-65 Pounds | 25.1 Pounds | 19"-49" | Yes |
| Tribute 5 | 5-40 Pounds | 9.29 Pounds | 19"-40" | Yes |
| Britax Marathon | 5-65 Pounds | 27 Pounds | Up to 49" | Yes |
I chose the Evenflo Sonus as the best travel car seat because not only is it lightweight, but it has an acceptable weight and height range and is FFA Inversion approved. It's an affordable product with an expiration of 6-years and has been rated by the NHTSA doe ease of use. 
Even though the Evenflo Sonus is a new model, I enjoyed using it and getting to know how it works. It's a fantastic travel car seat and affordable to boot. It's FAA approved so I was able ot use it on an airplanee easily. Installation was simple with the LATCH system and the car seat remained secure. 
I thought that the seat itself was well padded and my child seemed to be comfortable in it. It's also narrow enough to fit three across in a vehicle.
The fabric is removable so I could toss it in the washing machine if needed. Additionally, the seat has an air fow ventilation system that regulates the temperature of the seat to keep my child cool. There are also two cup holders on the seat for
It is very affordable and safe car seat on the market! It is FAA approved and is suitable for infants to toddlers from 5-20 pounds. Thus, it allows the most use for the dollar spent. Its durability and comfortability will ease the duress of traveling.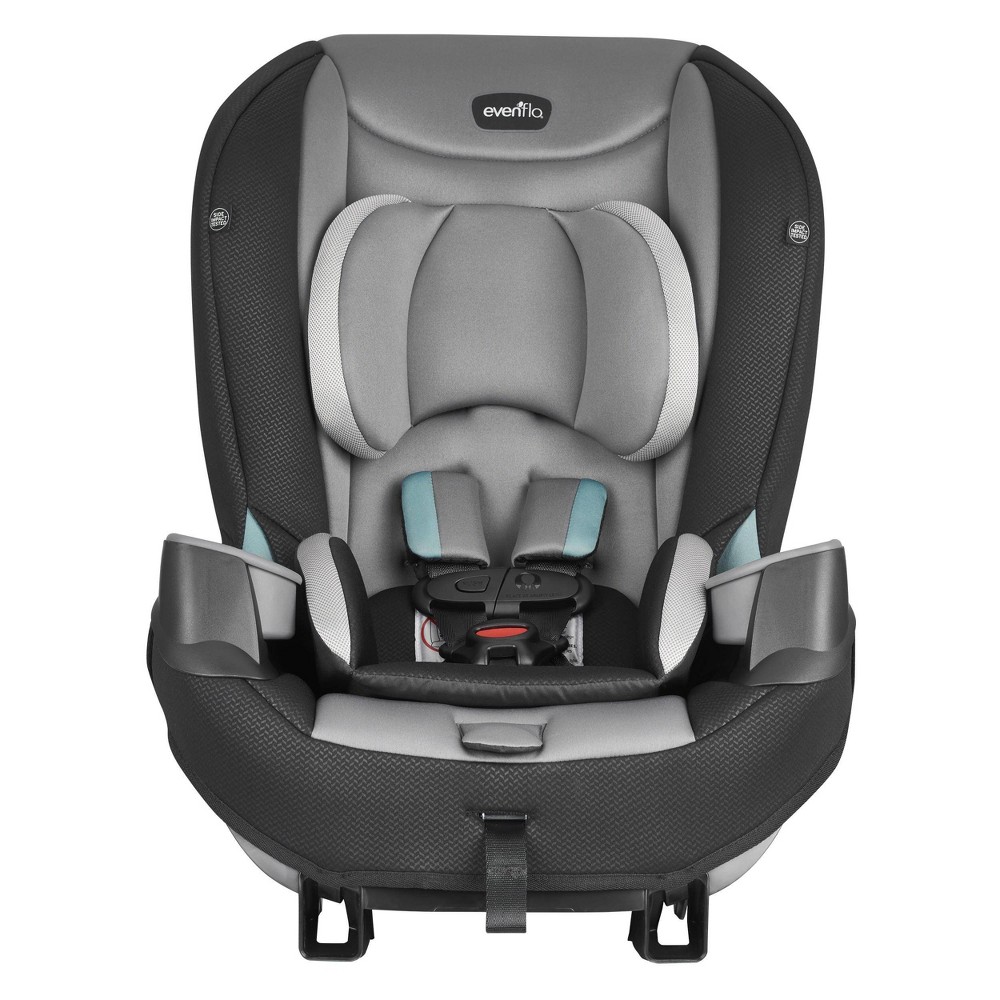 Target.com
$120.00
in stock
1 new from $120.00
as of September 28, 2023 10:39 pm
Pros
Lightweight (10 lbs)

FAA approved

Easy installation

Well padded and comfortable

Narrow
Cons
Not suggested for forward facing under two

Single strap harness
One of the most affordable convertible car seats that can be used for traveling is the Cosco Scenera NEXT.
This was a very lightweight car seat and worked well for airplane and car travel.
It's FAA approved and was easy to install with the LATCH system. Since it only goes up to 40-pounds, it's best for infants and small toddlers. 
I loved how narrow this seat was. It fit well in my vehicle even with the handy cup holder on the side. Unfortunately the harness needs to be re-threaded when the child grows, so that's kind of a downfall. Other than that, I was impressed by how portable and inexpensive it was.
It is FAA approved so using it on a plane will not be a problem.  It is less expensive than any other travel car seat on the market by at least $10!
Pros
Easy to install

Lightweight

Inexpensive

FAA approved

For infants and toddlers 5-20 pounds

Narrow

Easy to clean
Cons
Only goes up to 13 inches

40-pound limit

Awkward to carry
If you're a frequent traveler, then it may justify the steep price. I did enjoy this car seat, though. It's roomy enough for every child and it's comfortable.
It has an awesome 3D air mesh fabric that allows air flow to go through channels for improved ventilation.
This fabric certainly kept my child comfortable while we were traveling. There's also a 9-position leveling system that ensured the seat fit in my car properly. 
I thought that the seat kept my child well-protected with the Super Cinch installation with the LATCH system. Additionally, the 9-position headrest and no-rethread harness made it much simpler to adjust to accommodate my child's height.
The ComfortFlex harness also kept the waist belt out of the way when I put my child in and took them out of the car seat. My only concern was that it was heavy and bulky.
It is heavier than all of the other travel car seats on the list, but FAA approved and the most durable and long lasting. 
The Chicco Next Fit iX has the best design and functionality. It is extremely comfortable and air flow system will help keep baby's temperature at a moderate level. 
$334.96
in stock
4 new from $329.99
as of September 28, 2023 10:39 pm
Pros
Design and functionality

Comfortable

Keeps baby's temperature moderate

Easy to install

Durable

Fits into a travel stroller

FAA approved
Cons
On the heavier side

Bulky

Expensive
This was one of the easiest and lightest car seats I had the pleasure of traveling with. My child fit so well in it and seemed comfortable for my child.
There are multiple harness positions that accommodated to my child's height and weight and the seat itself was simple to install with the LATCH system. 
While we were traveling my child had an accident and I needed to wash the seat cover. I was able to remove it and wash it at a laundromat. I appreciated how lightweight the car seat was as well. I was able to move it to a different vehicle with no effort since it weighs just 9.29 pounds.
Infants to toddlers will travel comfortably in the Evenflo Tribute LX. The Evenflo Tribute is an ideal travel car seat. It is one of the lightest on the market, weighing only 9 pounds.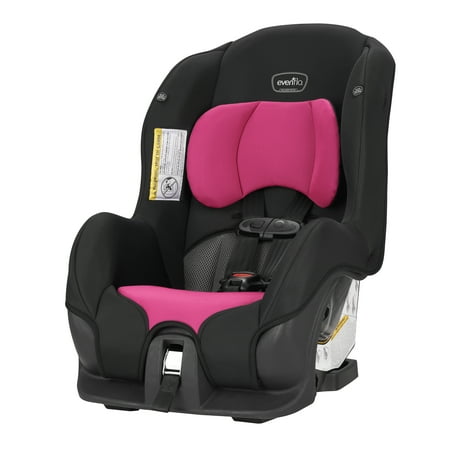 Walmart.com
out of stock
as of September 28, 2023 10:39 pm
Pros
Lightweight

Cleans easily

Easy to use

Inexpensive

Comfortable

High safety ratings

FAA approved
Cons
Low durability

Straps may tangle
This would have been my top pick for best car seat for traveling, but I just couldn't get past the fact that it was so heavy and expensive.
Aside from those two things, I loved the car seat. It was easy to install with the click tight technology. I knew from the start that it was installed correctly and that my child was safe. 
One of my favorite features was the 14-position harness and no-rethread buckles. If i needed to adjust the harness, all I had to do was pull the strap and it adjusted as one unit.
Additionally, I could recline my child in 7 different positions to ensure maximum comfort. It definitely seemed comfortable for them, but it was just too heavy for me to move from vehicle to vehicle.
The Britax Marathon is one of the safest travel car seats out there. The click-tight installation system and Safe Cell Impact Protection system give parents peace of mind. Little ones will be safe and sound wherever they are in the world.
out of stock
as of September 28, 2023 10:39 pm
Pros
Extra safety features

Comfortable

Long lasting 5-65 pounds

Durable

Narrow

FAA approved
Cons
The Combi Compact was designed to fit into very small cars, which should make installation on an airplane a breeze. At only 15.5 inches across, even the smallest airplanes will be able to accommodate this seat.
Besides being compact, the Combi Coccoro is ultra-comfortable. This car seat will make travel a breeze, keeping your little one snug for the entire trip!
$439.96
$549.95
in stock
7 new from $429.95
4 used from $351.85
as of September 28, 2023 10:39 pm
Pros
Lightweight

Ultra-narrow

Long lasting (5-40 pounds)

Can snap into a travel stroller

FAA approved
Cons
Pricey

Tricky installation

Can be too small for bigger children
The Snug Ride is a great choice for an infant travel car seat. It is lightweight and comes with a travel system or can easily latch on a travel cart.
For an infant seat, the Graco Snug Ride is perfect for travel. It easily latches into a travel stroller or system and is lightweight and narrow enough to fit in airplane seats.
$160.99
$229.99
in stock
1 new from $160.99
as of September 28, 2023 10:39 pm
Pros
Ultra lightweight

Easy to transport

High safety standards

Comfortable

Easily latches onto travel system or travel stroller

FAA approved
Cons
Limited to infants up to 35 pounds

Expensive
The CARES Safety Restraint System is not a car seat, but rather a one-pound, 5 point harness restraint system. Although it is not a seat, it is an FAA approved travel restraint system. It simply keeps kids safe during travel with ease. CARES fits in a diaper bag, backpack or carry-on luggage.
The CARES Safety Restraint system is super light and compact. It does not require any added effort to take along on a trip.
Pros
Lightweight (1 lb)

FAA approved

Compact

Easy to use

Easy to clean
Cons
The child must weigh between 22 and 44 pounds

Wraps around seat

The child can slide out through lap belt
This car seat has been said to have extra cushioning, making it very comfortable for travel. However, it may be too big for some airplanes.
out of stock
as of September 28, 2023 10:39 pm
The Cosco Apt 50 is easy to travel with. It is lightweight, so maneuvering through the airport is a breeze!
Pros
Lightweight

Inexpensive

FAA approved
Cons
Wider than average

Tough to install

Uncomfortable
Top Travel Systems 
| | | | | |
| --- | --- | --- | --- | --- |
| Product | Car Seat Weight Range | Stroller Weight Limit | Stroller Height Range | Stroller Weight |
| Baby Trend EZ Ride | 4-35 Pounds | Up to 50 Pounds | Up to 40" | 31.9 Pounds |
| Chicco Bravo Trio | 4-30 Pounds | Up to 50 Pounds | Up to 40" | 24.9 Pounds |
| Graco FastAction | 4-30 Pounds | Up to 50 Pounds | Up to 40" | 22 Pounds |
| Evenflo Pivot Xpand | 4-35 Pounds | Up to 55 Pounds | Up to 40" | 31 Pounds |
| Maxi-Cosi Zelia | 3-50 Pounds | Up to 50 Pounds | Up to 40" | 21 Pounds |
My choice for the best travel system is the Baby Trend EZ Ride 35 because it's affordable, lightweight, and easy to use.
There are multiple ways you can install the base depending on the style of your vehicle's seat. Additionally, the car seat has an expiration of 6-years. You can find the expiration sticker on the car seat, base, or stroller. 
The Baby Trend EZ Ride 35 was a great travel system to use. The infant seat base was simple to install with both the LATCH system and seat belt guides. It seemed tight, sturdy, and the seat clicked into it easily.
It was also easy to remove from the base and place in the stroller. Removeing the base from my vehicle seemed a little more difficult, but moreso with the LATCH system than the belt system. 
The stoller was smooth to push. I liked how the front wheel was centered like a jogger. This made maneuverability simple.
There is a multi-position recline to ensure my child was comfortable the whole time and a large head support as well. Additionally, I was able to adjust the height of the stroller handle for easier use. The stroller does have cup holders, but they were a bit narrow. 
I liked this travel system, but it was a little pricey for my liking. However, price aside, the stroller and car seat performed well for me.
The adjustable handle made it easy for taller individuals to push the stroller without needing to hunch over. Additionally, there was pretty decent storage space for the diaper bag and other necessities. 
I liked how the fabric could easily come off when it needed to be washed. There were also cup holders and a parent tray attached to the stroller. As far as the car seat goes, it was easy to install, but tough to latch to the stroller itself. You really need to listen for the "click" to ensure it's properly latched. 
Right off the bat I noticed how easy the stroller was to unfold and fold. It's lightweight, so it made the process much easier. The infant carrier is lightweight as well, weighing just about 9 pounds.
The base can be installed with either the LATCH system or seat belt. I find that the seat belt method makes it easier to move the base to different vehicles. Additionally, the car seat clicks into the base and stroller audibly and simply. 
I liked the multi-recline function on the stroller. If my baby wasn't placed in the carrier, they were in the stroller and I could recline them to make them more comfortable. I preferred placing them in the stroller without the car seat because the car seat handle is awkward to carry. 
There are definitely some flaws with this travel system, but I believe that all of the positives outweigh these. Take the stroller frame for example.
The frame grows from a single to double and there are 22 configurations that you can utilize. The best part is that all the parts are there and no tools are needed for conversion. 
The infant seat has a SafeZone base that's easy to install. The car seat is light enough for me to carry around without needing the stroller.
Sometimes the seat can be difficult to attach to the stroller. The large storage basket in the stroller can handle my diaper bag and other necessities. I wish the fabric was removable, but it can only be spot washed. 
Maxi-Cosi Zelia
This is by far one of the most luxurious travel systems on the market, so naturally it comes with a luxurious price tag. However, its performance was stellar.
It was ultra-comfortable for my child thanks to the posh cushions in the car seat. It's also one of the lightest infant car seats and stroller combinations. 
The stroller is easy to push and the car seat can be adjustable to provide a smooth ride. The seat completely reclines to allow and my child enjoyed napping in that position.
The stroller folds and stands upright, but when unfolded, it doesn't seem very sturdy. hThe car seat was also a little difficult to detach from the stroller.
Buyers Guide
The most important factors to look for when buying a travel car seat is safety, ease of use, durability, and pricing.
Getting your child safely secured must be quick and easy.The seat may be moved to multiple aircraft and/or cars throughout trips or may be checked with other luggage. Because of these factors, durability is essential.
The investment should withstand many adventures. This purchase is going to be an additional item that might be used infrequently, so the price should be considered.
Safety
A car seat's safety rating should be one of the most important factors while shopping.  All car seats are required to pass a 30 mph crash test in order to be released to the market (source). Furthermore, most car seat manufacturers have added safety features to increase a seat's safety level.
Therefore, before you travel with your child, make sure that the child seat has the best safety features for traveling.
Ease of Use
A travel car seat will be installed and removed frequently. Many transfers can take place during trips. The safety seat should not be something that is a struggle to install.
Traveling with a child requires many items. The travel car seat should be lightweight and not overbearing to get around the airport with. The width of the seat should also be narrow. This will avoid any trouble getting it to install correctly.
Safe installation is imperative, and if it is difficult, mistakes can occur. A simple and easy installation process is one that will ensure the child's safety when traveling.
Durability
Travel car seats go through a lot of wear and tear. The in and out and up and down and occasional bag check may cause some bumps to the seat. If the child is using a convertible seat, it could last throughout their toddler years. Durability will ensure that the travel seat will tag along as long as the child needs it.
Pricing
A travel car seat most likely will not be the primary car seat used. Since car seats are generally expensive, it may break the bank to buy another one just for travel. The price of a travel car seat should be practical and affordable.
Frequently Asked Questions
Should I Buy a Travel Car Seat?
Traveling with an infant or toddler isn't easy. Your regular car seat may not be FAA approved. Maybe it's too bulky and wide to fit on the plane. It is best to check that your car seat is suitable for travel. A car seat should not cause additional stress while traveling.
Do I Have to Buy a Car Seat for 2-year-old?
The Federal Aviation Administration recommends for all the children to sit in FAA approved car seats for the duration of the flight.
Can a Car Seat Be Installed on a Plane in a Rear-Facing Position?
Yes, especially in the case of the infant seats. Those seats are not approved to be installed in a forward-facing position. Make sure your child is within the weight/height limits of the seat to be installed in a rear-facing position.
Traveling With Your Child Just Got Easier
Purchasing a travel car seat can assure that you can get from point A to point B safe and happy. If your child is going to be comfortable and safe, it is well worth the added purchase. Having peace of mind throughout the adventure is priceless.
Consequently, in the end, the most crucial factor, hands down, should be safety features! Check to make sure the seat meets both the FAA and other government guidelines. Furthermore, check for a tag that states that the restraint system is certified for use in aircraft.